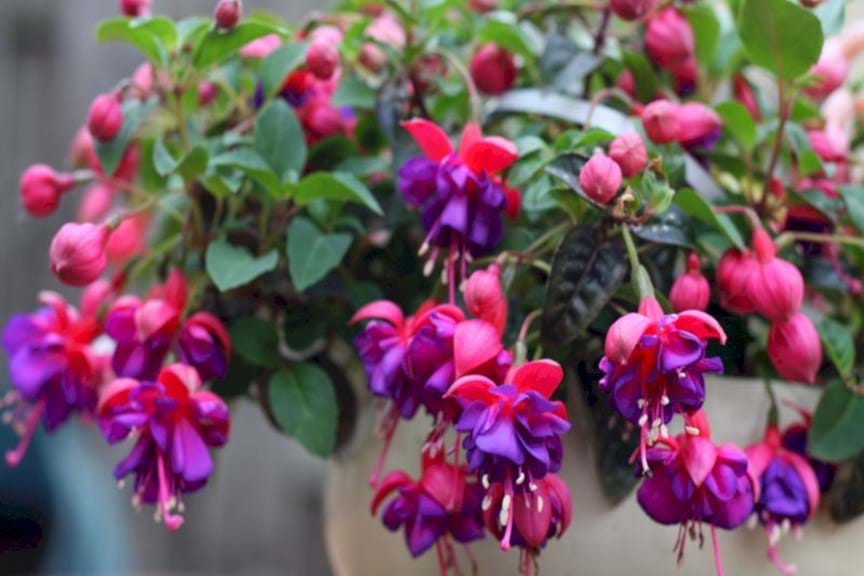 Fuchsia cvs
How to Grow Fuchsia
Fuchsias are a much loved perennial garden favourite. Not only can they be used in the garden, but also in hanging pots, part shade and full shade. They burst into flower from late spring to early winter and exude happiness with their blend of contrasting colour. When in full bloom the bush can seem like a cluster of full-skirted ballerinas waiting to move onto the stage.
Fuchsias are named after the 16th century German doctor, Leonhart Fuchs, who gained horticultural credibility by publishing a herbal in the 1540s but never actually laid his eyes on a fuchsia. It's useful to know his surname, though, because it helps us remember how to spell the plant's name– simply 'Fuchs' with an 'ia' at the end.
There are more than 100 species of fuchsias in nature, but most garden fuchsias are hybrids that have been bred for their showy flowers. These flowers are often quite large and pendulous, which means they're easily damaged. The clue, then, is to keep the plants in a sheltered position that isn't exposed to strong winds. Fuchsia plants prefer gentle conditions with plenty of water, good drainage, no temperature extremes and protection from the hottest sun.
Some of the pendulous varieties are ideally grown in a hanging basket or pot so that the flowers can be seen from below. Fuchsia flowers usually have sepals (the petal-like parts at the top of the flower) that blend or contrast in colour with the softer single or double petals that flair out below. Stamens protrude from beneath the petals, looking like a bunch of skinny, dangling legs. The effect can be totally charming – like a cluster of full-skirted ballerinas waiting to move onto the stage
Part shade to full shade, sheltered from strong winds
Suitable for all climatic zones