Free Shipping When You Spend $50 or More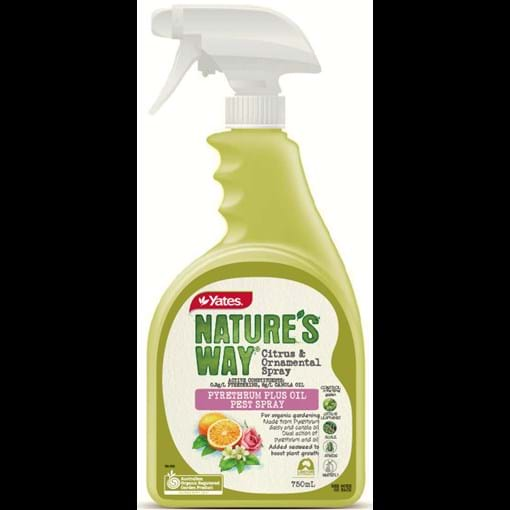 Zoom


Yates 750ml Ready To Use Nature's Way Citrus And Ornamental Spray
Free Shipping When You Spend $50 or More
Description
Yates Nature's Way Citrus & Ornamental Spray, effectively controls insect pests and is suitable for use around the family garden, it is approved for use in organic gardens.
Features
Ready to use formula in handy spray gun
Made from two active natural ingredients
Contains pyrethrin, a natural insecticide derived from the pyrethrum daisy and oil which is derived from canola
Certified for use in organic gardens by Australian Certified Organic (ACO), so it is ideal for gardeners wanting to use organic methods of insect control.
Controls a wide range of both chewing and sucking insect pests, with the bonus of added seaweed to boost plant growth
Specifications
Size

750 mL

Ingredient

8 g / L Canola oil 0.3 g / L Pyrethrins
How to Use
How it Works
Pyrethrin is an extract from the pyrethrum daisy and disrupts the nervous system of both sucking and chewing insect pests such as aphids and caterpillars.Vegetable oil (canola oil) acts as an insecticide by smothering insects such as scale and mealy bug and deterring the citrus leaf miner moth from laying eggs on citrus leaves.Also controls Bronze Orange Bugs on citrus, which damage tender young leaves and stems and also suck sap from flower and fruit stalks, causing them to drop.
How to Use
Shake well before using.This product works by contact action so coverage under foliage is essential. Dead scale may remain on the plant for a few weeks after spraying.
Tomatoes and vegetables including, brassicas (eg cabbage, broccoli, Burssels sprouts), curcurbits (eg cucumber, pumpkin) and leafy vegetables, fruit trees, ornamentals, indoor plants and citrus.
Pests Controlled - Aphids, thrips, caterpillars (including cabbage white butterfly & cabbage moth), whitefly, ants, flies, earwigs, leafhopper, two-spotted mite, scale, mealybug, sooty mouldHow to Apply - Spray lightly, just to the joint of run off, including undersides of foliage, as soon as insect pests appear. Repeat weekly if required.
Citrus
Pests Controlled - Citrus leaf miner, aphids, scale, ants, sooty mould, bronze orange bugHow to Apply - For leafminer control, begin applying when the new flush of growth is about 4cm long. For bronze orange bug control, being spraying from early spring. Spray thoroughly every 5-14 days, including the undersides of foliage. DO NOT apply more than 8 times per season.
Precautions
1 day withholding period
DO NOT spray if temperature is expected to exceed 30°C or when plants are suffering from moisture stress
DO NOT spray if rain likely within 2 hours
DO NOT mix with other pesticides
DO NOT use on delicate plants such as ferns, mosses, seedlings or on flowers
DO NOT handle plants and/or their fruit until the spray has dried
DO NOT spray directly on humans, pets, exposed food, food preparation areas or food utensils.