Free Shipping When You Spend $50 or More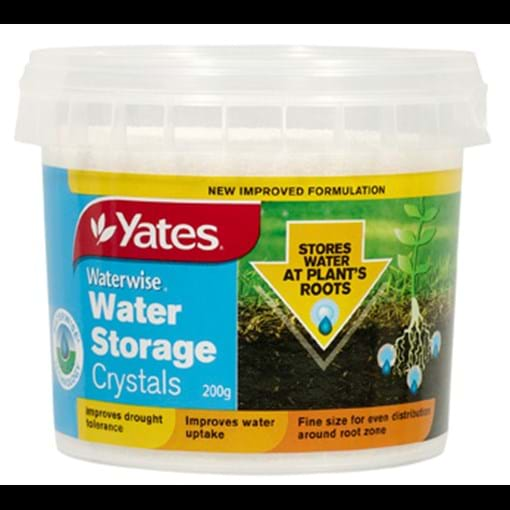 Zoom

Yates 200g Waterwise Water Storage Crystals
Free Shipping When You Spend $50 or More
Description
Yates Waterwise Storage Crystals help plants withstand dry weather conditions and infrequent watering.
Features
Super absorbent crystals swell up to hundreds of times their weight
Waterwise Technology provides the answer to all of your drought-proofing needs to get water to the plant's roots, protect plants from water loss & reduce water usage
Each 5 g application stores up to 1 L of water at the plant's roots
Plants are able to draw water as they need it
Crystals replenish with each watering
Stores water at plant's roots
Improves drought tolerance
Lasts for years
Biodegradable
Specifications
Size

200 g

Ingredient

Organic compound
How to Use
It is safest to use the crystals wet instead of dry as the crystals take up substantially more volume once wet.
Wet Mixing (Recommended)
Mix one teaspoon (5 g) into 750 mL water. Leave for an hour before mixing into 5 L of potting mix. Increase to two teaspoons per 5 L for hanging baskets and other water stress prone plants.
Plants Already Potted or In-Ground
Poke vertical holes into potting mix or drip line and place a small amount of into the base of each hole. Water in thoroughly, then top with potting mix.
Sowing Seed
Mix 10 g per 1 metre square into top 50 mm of topsoil, sow seed and water in thoroughly.
Laying Turf
Evenly spread crystals at 10 g per 1 square metre, lay turf, then water.
Dry Mixing
Mix one teaspoon (5 g) of crystals with 5 L of potting mix. Pot up plant and water in thoroughly. For best results, water two hours later to ensure crystals are fully charged.
NOT TO BE USED FOR ANY PURPOSE OR IN ANY MANNER CONTRARY TO THIS LABEL UNLESS AUTHORISED