Free Shipping When You Spend $50 or More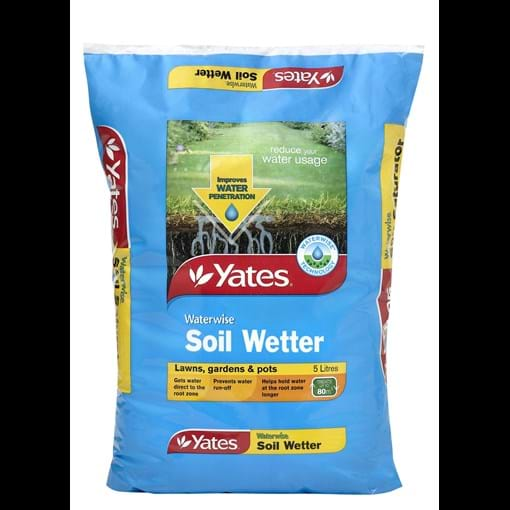 Zoom


Yates 5L Waterwise Soil Wetter Granules
Free Shipping When You Spend $50 or More
Description
Yates Waterwise Soil Wetter Granules breaks down the water repellent layer of soil and allows deep and even watering.
Features
For use on garden beds, lawns and potted plants
Improves water penetration of hard-to-wet soils
Waterwise Technology provides the answer to all of your drought-proofing needs to get water to the plant's roots, protect plants from water loss & reduce water usage
An effective formula containing coir peat (coconut fibre) and wetting agent
Improves water penetration
Gets water direct to the root zone
Prevents water run-off
Helps hold water at the root zone longer
Specifications
Size

5 L

Other Sizes Available

Ingredient

Coir peat Wetting agent
How to Use
For best results, apply in the cool of the day. Do not apply to dry soil. Reapply as required.
Directions for Use in Garden Beds & Lawns
Apply 75 g (approx 1 handful) per 2 square metres for sandy soils. Apply 75 g (approx 1 handful) per 3 square metres for loamy soils. Water in well after application. For lawns, water in well to wash off foliage.
Directions for Use in Containers, Pots & Hanging Baskets
Lightly break up the surface of the potting mix and apply at the following rates:200 mm/8 inch pot - 1 level teaspoon300 mm/12 inch pot - 3 level teaspoons400 mm/16 inch pot - 4 level teaspoonsWater in well after application
NOT TO BE USED FOR ANY PURPOSE OR IN ANY MANNER CONTRARY TO THIS LABEL UNLESS AUTHORISED