Free Shipping When You Spend $50 or More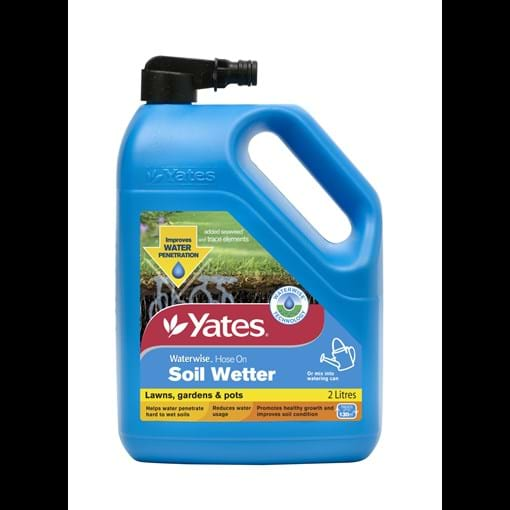 Zoom



Yates 2L Waterwise Soil Wetter Hose-On
Free Shipping When You Spend $50 or More
Description
Yates Waterwise Soil Wetter Hose-On is a wetting agent to improve moisture penetration of water repellent soils and soil conditioner to aid soil structure.
Features
For use on lawns, gardens & pots
Added seaweed and trace elements to promote healthy growth
Waterwise Technology provides the answer to all of your drought-proofing needs to get water to the plant's roots, protect plants from water loss & reduce water usage
Helps water penetrate hard to wet soils
Soil conditioners improve soil fertility
Improves water penetration.
Reduces water usage.
Promotes healthy growth and improves soil condition
Easy to use hose-on formulation, which treats up to 130 square metres of garden
Specifications
Size

2 L

Ingredient

Seaweed concentrate Trace elements Wetting agent
How to Use
Shake well before applying. Follow directions on the pack.
Directions for Use with Hose
Apply contents of bottle over an area of 130 square metres. Water in well after application to wash solution off plant foliage.
Directions for Use with Watering Can
Mix 300 mL concentrate in 9 L of water in a watering can. Water in well after application to wash solution off plant foliage. 9 L solution (concentrate + water mixture) should treat 12 x 20 cm diameter pots.For best results, apply in the cool of the day. Reapply as required.
NOT TO BE USED FOR ANY PURPOSE OR IN ANY MANNER CONTRARY TO THIS LABEL UNLESS AUTHORISED
Precautions
Avoid skin and eye contact with this product. If contact occurs wash with fresh water.