Free Shipping When You Spend $50 or More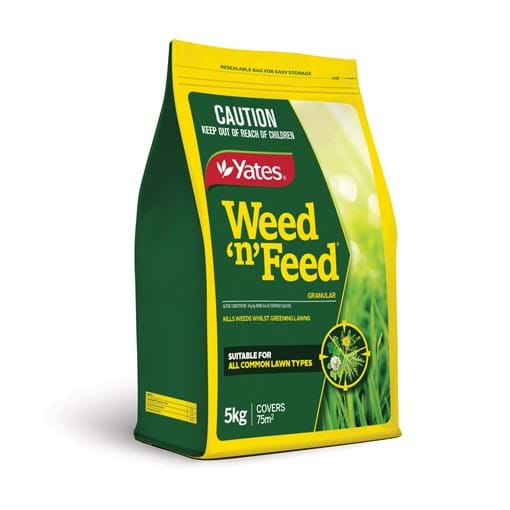 Zoom



Yates 5kg Weed 'n' Feed Granular
Free Shipping When You Spend $50 or More
Description
Feeling soft green grass under your feet is one of the pleasures of having a garden. But when weeds start to creep in, it can turn lush green grass in to dry, scratchy scrub. Yates Weed 'n' Feed Granular helps control large areas of broadleaf weeds, such as thistles, bindii and dandelions, within days. Weeds are most effectively controlled when in the early stages of growth, and Weed 'n' Feed is best applied before weeds flower and set seed. Fast acting and safe on all types of lawn, including buffalo, Couch, Kikuyu and Queensland Blue, you can use it safe in the knowledge you'll eradicate weeds while keeping your grass looking green and in great condition. Keeping your grass healthy at the same time as eradicating weeds is essential, which is why Weed 'n' Feed also contains a fertiliser. Containing nitrogen and iron, it encourages the growth of lush green leaves, strengthens the grass, and promotes a deep, green colour. The granular formula is easy to use, making keeping your lawn weed-free even easier. Just sprinkle it on your lawn to get rid of flatweeds while leaving the rest of the grass standing tall and green. You'll notice fewer weeds and greener grass quickly, with minimum effort. Too easy. Selective control of most broadleaf weeds in home garden lawns with nitrogen fertiliser for healthy green lawn growth.
Features
Fast acting with visible weed control within days
Rapid greening of the lawn
Ideal for weeds such as thistles and dandelions
Safe for buffalo & other common lawn types. A safer option if you're unsure what lawn type you have
The iron has a salt burn effect so that flatweeds receive a relatively severe burn compared to the vertical blades of grass
Soluble iron and nitrogen are absorbed by the root system to provide strong green growth
Specifications
Size

5 kg

Other Sizes Available

Ingredient

50 g / kg Iron (Fe) present as Ferrous Sulphate
How to Use
Directions for Use
Apply 1 kg (20 handfuls) over 15 square metres. Repeat at 6 week intervals. 12.5kg treats 187.5 square metres.
Precautions
DO NOT allow material to spill or blow over onto hard or non-lawn surfaces as staining may occur. Dry sweep immediately
For first few days after application avoid walking from treated area on to concrete or non-lawn surface as staining may occur.
To prevent staining during handling, avoid contact with clothes and wear gloves
DO NOT exceed rate of application
DO NOT use on lawns less than 6 months old or during hot or windy weather
DO NOT apply to lawns suffering stress or if shade temperatures are expected to exceed 30°C within a 72 hour period
DO NOT allow entry of children and pets into treated areas until product has been watered in
DO NOT breathe dust. Avoid contact with skin and eyes.