Free Shipping When You Spend $50 or More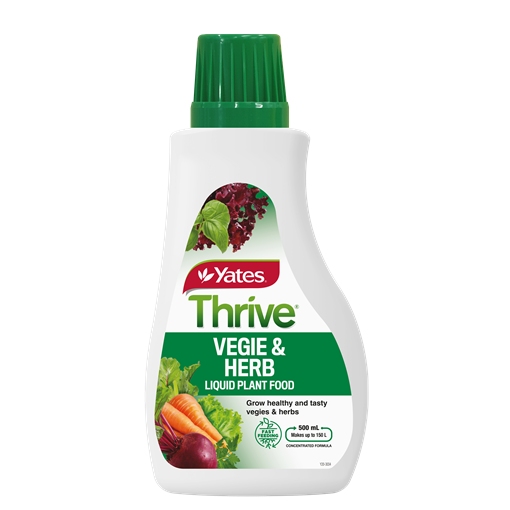 Zoom

Yates 500mL Thrive Vegie & Herb Liquid Plant Food
Free Shipping When You Spend $50 or More
Description
Yates Thrive Vegie and Herb Concentrate is a complete liquid plant food that provides plants with the balanced nutrition they need to produce strong, healthy growth and improved yields. Thrive is dual action formula that feeds through both the leaves and roots as you water. It works quickly – so you see results sooner.
Features
Easy to measure and mix – no waiting for powders to dissolve
Suitable for all vegetables and herbs
Designed to feed foilage, encourage root development and improve vegetable development
Specifications
Size

500 mL

Ingredient

NPK 9.5: 1.9: 7.6 Plus manganese (Mn), iron (Fe), copper (Cu) and trace elements
How to Use
Directions for Use
Thrive Concentrate Vegies & Herbs should always be diluted with water before applying. Note 1 capful = 30ml Young Seedlings: 1 cap in 9L water every week (Timing: First 3-4 weeks after germination or planting) Active Growth: 2 caps in 9L water every week (Timing: Early Spring – early Summer) All other times: 1 cap in 9L water every week (Timing: Mid-summer – early Autumn) Note: Use 'All other times' rate for winter crops eg. broccoli, cabbage, cauliflower and kale.
Precautions
If applying to foliage, DO NOT apply when temperatures are expected to reach over 30°C
Avoid applying when the soil is dry or the plants are suffering from moisture stress