Free Shipping When You Spend $50 or More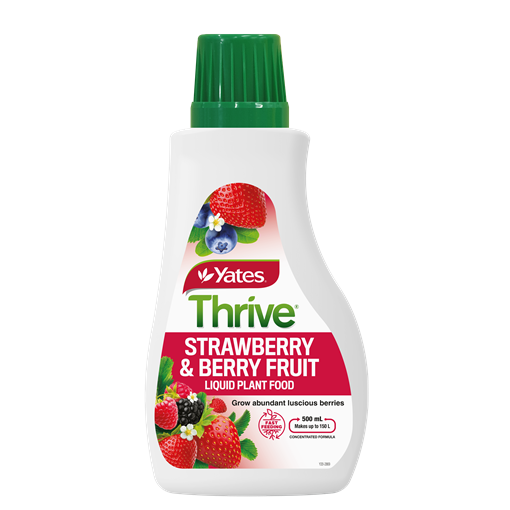 Zoom

Yates 500mL Thrive Strawberry & Berry Fruit Liquid Plant Food
Free Shipping When You Spend $50 or More
Description
Yates Thrive Strawberry & Berry Concentrate is a complete liquid plant food that provides plants with the balanced nutrition they need to produce juicy, luscious berries and healthy green foliage. Thrive is a dual action formula that feeds through both leaves and roots, as you water. It works quickly – so you see results sooner.
Features
Easy to measure and mix – no waiting for powders to dissolve
Suitable for all plant types
Designed to feed foilage, encourage root development and improve flower development
Specifications
Size

500 mL

Ingredient

NPK 9: 2: 8 Plus manganese (Mn), iron (Fe), copper (Cu) and trace elements
How to Use
Directions for Use
Thrive Concentrate Strawberry & Berry Fruit Food should always be diluted with water before applying. Flowering & Fruiting: 2 caps in 9L water weekly (Timing: First flowers to end of fruiting) All other times: 1 cap in 9L water weekly. (Timing: Early Spring to early Autumn) Note: cease feeding in winter when plants are dormant.
Precautions
If applying to foliage, DO NOT apply when temperatures are expected to reach over 30°C
Avoid applying when the soil is dry or the plants are suffering from moisture stress