Free Shipping When You Spend $50 or More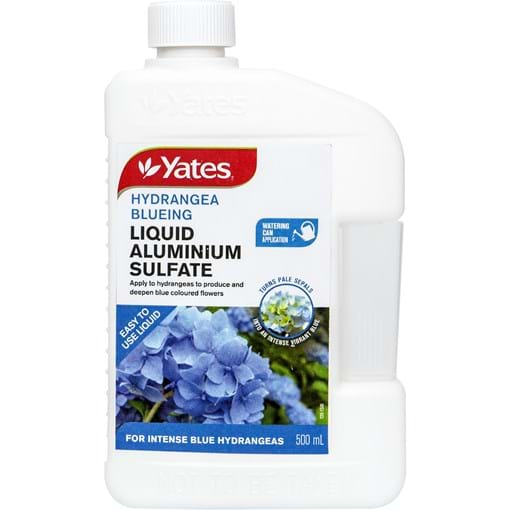 Zoom
Yates 500mL Hydrangea Blueing Liquid Aluminium Sulphate Fertiliser & Soil Acidifer
Free Shipping When You Spend $50 or More
Description
Apply to hydrangeas to produce and deepen blue coloured flowers. Supplies aluminium, which is needed to produce intense blue-coloured hydrangea flowers. An easy to use liquid formulation, Yates Hydrangea Blueing Tonic is easy to dilute and apply with no handling of dusty powders.
Features
Soil pH affects the colour of hydrangea flowers
Acidic soil (pH 4.5-5.5) will produce blue flowers
Less acidic soil (pH 5.5 to 7) will produce pale, purplish flowers
Alkaline soil (pH 7 to 8.5) will turn flowers pink
Specifications
Size

500 mL

Ingredient

Aluminium (Al) as aluminium sulphate 2.5% w / v
How to Use
Directions for Use
Application - change hydrangea flower colour to blue; maintain blue flower colour Rate - Mix 20ml in 5L of water Frequency - Every 3 to 4 weeks Timing - Apply any time of the year or after winter pruning to adjust and maintain flower colour Area - 5L / 5m2: Apply to moist soil around plant For optimum results apply as part of a soil treatment program with Yates Soil Acidifier. This will help with reducing soil pH, while also supplying the aluminium necessary for blue flowers. Check the soil pH before and during treatment (at least every 3 months): the optimum soil pH to ensure blue flowers is 4.5-5.5. Do not reduce soil pH below this range as this could lead to plant damage. It is best to apply many smaller treatments rather than a single large treatment.
Storage
Store in a cool dry place away from direct sunlight. Keep out of reach of children and pets.
Precautions
DO NOT apply to foliage. If contact occurs, rinse off immediately with water. Always apply to moist soil. Do not apply when maximum temperature is expected to reach above 30C or if the plant is suffering mositure stress. Best applied during early morning or late afternoon.
Read label before use.