Free Shipping When You Spend $50 or More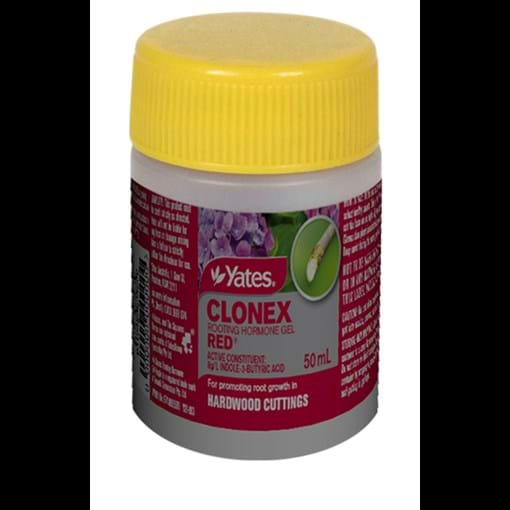 Zoom

Yates 50mL Clonex Rooting Hormone Gel - Red
Free Shipping When You Spend $50 or More
Description
This gel hormone promotes root growth in hardwood cuttings for propagation. A unique blend of nutrients, vitamins, minerals and hormones, it promotes root development with good results for most cuttings
Features
Seals and protects the cutting while enhancing root development
For promoting root growth in hardwood cuttings
Simple easy to use gel, no mixing required, no mess
Allows the home gardener to achieve professional propagation results
For best results, keep potting mix moist during the entire period of root formation. This gel hormone promotes root growth in hardwood cuttings for propagation. A unique blend of nutrients, vitamins, minerals and hormones, it promotes root development with good results for most cuttings.
Specifications
Size

50 mL

Ingredient

8 g / L Indole-3-Butryic Acid
How to Use
Directions for Use
At the end of the growing season select healthy shoots. Take a 5 to 15 cm piece and cut the base on an angle. Dip the lower 1.5 cm into Clonex then plant immediately into propagating mix. Keep moist during the entire period of root formation.
NOT TO BE USED FOR ANY PURPOSE OR IN ANY MANNER CONTRARY TO THIS LABEL UNLESS AUTHORISED
Precautions
CAUTION
DO NOT allow container or product to get into drains, sewers, streams or ponds
Storage & Disposal
Store in closed original container in a cool, dry place out of reach of children.DO NOT store in direct sunlight.Dispose of empty container by wrapping in paper, placing in plastic bag and putting in garbage.
Liability
This product must be used strictly as directed. Yates will not be liable for any loss or damage arising from a failure to strictly follow the directions for use.
First Aid
If poisoning occurs, contact a doctor or the Poisons Information Centre. Phone Australia 13 11 26 Phone New Zealand 0800 764 766