Free Shipping When You Spend $50 or More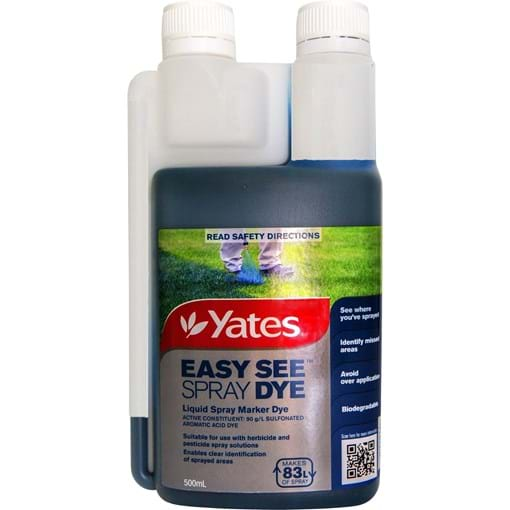 Zoom

Yates 500ml Liquid Easy See Spray Dye
Free Shipping When You Spend $50 or More
Description
Compatible with a range of products and ideal for use with weed killer sprays (herbicides) and lawn insecticides. Yates Easy See Spray Dye is a simple and cost-effective method in all spraying situations to reduce risk of over-application or missed untreated areas. Application to lawns also imparts a deep rich colour and a uniform appearance. The blue dye will fade and biodegrade naturally in the days following application.
Features
See where you've sprayed
Identify missed areas
Avoid over application
Biodegradable
Suitable for use with herbicide and pesticide spray solutions
Specifications
Size

500 mL

Ingredient

90 g / L Sulfonated Aromatic Acid Dye
How to Use
Directions for Use
Add 6 mL of dye to each litre of prepared spray solution, mix well and apply to either lawn or foliage as directed on the relevant herbicide or pesticide label.Squeeze centre of bottle to transfer required amount of dye into the integrated measuring container. If difficult to squeeze, first loosen measuring container lid. To achieve thorough mixing, premix this dye with water in ratio 1:10 before addition to hand applicator or back pack sprayer. Add premix solution to sprayer first and follow with water to half fill sprayer.Add other ingredients under agitation followed by water to top up sprayer.Wash out all spraying equipment thoroughly after use as product residue can cause discolouration of subsequent sprays.Mix only the amount that can be used. Do not store prepared spray solution.
Precautions
DO NOT contaminate streams, rivers or waterways with the chemical or used container.
Keep out of reach of children.
Store in closed, original container in a cool well-ventilated area, as cool as possible.
DO NOT swallow.
Avoid contact with skin or eyes. Wear rubber gloves, overalls and goggles or face shield.
Wash hands with soap and water after use.