Free Shipping When You Spend $50 or More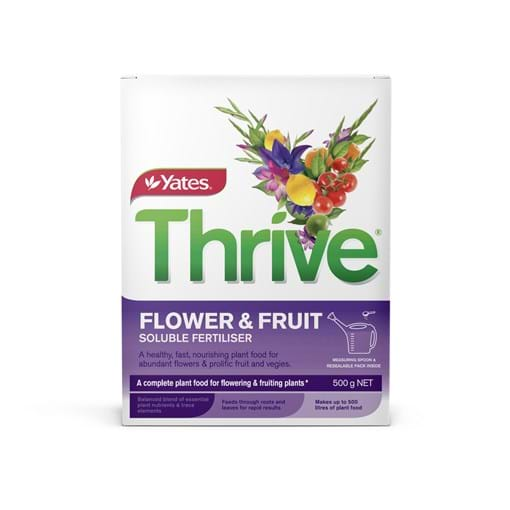 Zoom




Yates 500g Thrive Flower & Fruit Soluble Plant Food
Free Shipping When You Spend $50 or More
Description
A fast acting, complete fertiliser ideal for feeding a wide range of flowering and fruiting plants. Feeds through both the foliage and the roots. Specially formulated blend of nutrients, rich in phosphorus and potassium and trace elements, to encourage prolific flowering and fruiting.
Features
Complements Thrive Soluble all purpose plant food
A trusted, safe, easy-to-use formula
Ideal for feeding indoor & outdoor plants
Promotes prolific flowering and abundant fruit
Convenient handy pack – measuring spoon and resealable pack included
Specifications
Size

500 g

Other Sizes Available

Ingredient

NPK 14: 2.6: 21 Plus S 8.7, Mg 0.5, Fe 0.18, Mn 0.01, Zn 0.004, B 0.004, Mo 0.001, Cu 0.0003
How to Use
Directions for Use
For most plants dissolve one measuring spoon (8g) into 4.5 litres of water.
Precautions
DO NOT apply when temperatures are expected to reach over 30°C
Always dissolve in water before use
Use Thrive All Purpose for leafy vegetables, lawns, ferns, palms, indoor plants and shrubs