Free Shipping When You Spend $50 or More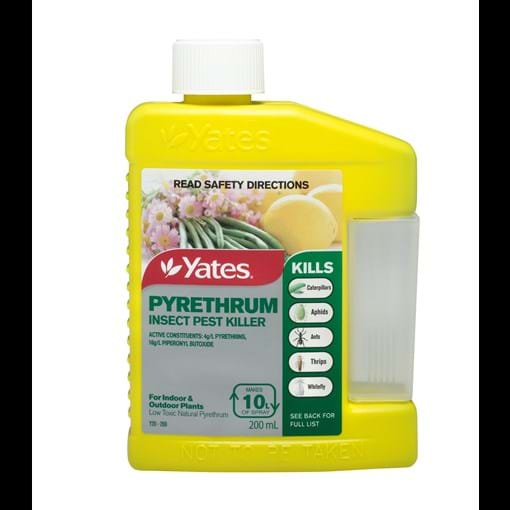 Zoom

Yates 200ml Pyrethrum Insect Pest Killer Concentrate
Free Shipping When You Spend $50 or More
Description
Kills a wide range of insect pests on vegetables, flowers, ornamentals and indoor plants.
Features
Low toxic
Based on natural pyrethrum daisy extract
Fast knockdown of pests
Non residual
Easy-to-use measure bottle
Specifications
Size

200 mL

Ingredient

4 g / L Pyrethrins 16 g / L Piperonyl Butoxide
How to Use
How to Use
Shake well before use. Mix 20ml per litre of water, spray when pests first appear and repeat at weekly intervals if required. Thorough coverage of all foliage and surfaces, including under leaves, is essential.
How it Works
Pyrethrins are fast-acting knockdown insecticides, working via contact action.Piperonyl Butoxide prevents the insect detoxifying pyrethrin and accelerates the rate of knockdown.
Effectiveness
Ineffective if not sprayed under the foliage where pests can hide, if incorrect dilution rates are used, or if rain follows shortly after spraying.NOTE: Pyrethrin is degraded by sunlight and has no residual effect. It decomposes rapidly in the environment. Please spray when bees are not foraging as this can be toxic to bees.
Precautions
DO NOT spray when shade temperatures are near 30°C or higher
DO NOT spray when soil is dry and plants are suffering from moisture stress.
DO NOT spray if rain is expected within 2 hours.
DO NOT apply to young seedlings.
Witholding period one day before harvest and wash edibles very well before consumption.
DO NOT allow product to get into drains, sewers, streams or ponds.
Will harm fish
Storage & Disposal
Store in the closed, original container in a cool, dry place out of reach of children and pets. DO NOT store in direct sunlight. Dispose of empty container by wrapping in paper, placing in plastic bag and putting in garbage.
Safety Directions
Avoid contact with eyes and skin. DO NOT inhale spray mist. Wash hands after use.
First Aid
If poisoning occurs, contact a doctor or Poisons Information Centre. Phone Australia 131126.
Liability
This product must be used strictly as directed. ®Yates will not be liable for any loss or damage arising from a failure to strictly follow the directions for use.