Free Shipping When You Spend $50 or More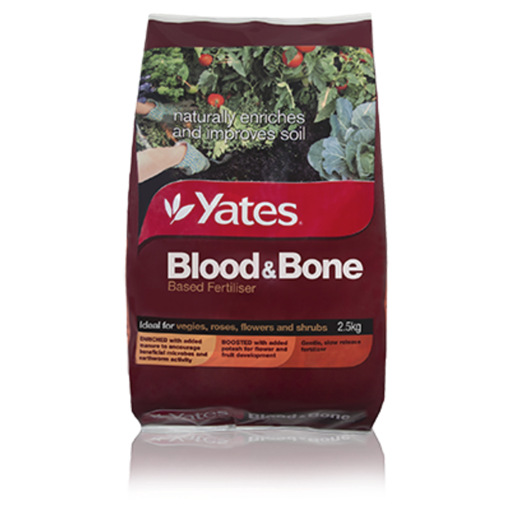 Zoom

Yates 2.5kg Blood and Bone Based Fertiliser
Free Shipping When You Spend $50 or More
Description
Features
65% pure high quality organic meat meal
Improves soil structure, promotes soil micro-organisms and encourage earthworms
Includes cow manure which is a gentle source of nutrients, plus soil conditioner
Suitable for most vegies and flowers including exotics
An organic based fertiliser suitable for all garden plants, although we recommend limiting use on native plants. Provides nitrogen for healthy leaf growth and phosphorus for strong root development.
Specifications
Size

2.5kg

5kg

10kg

25kg

Ingredient

NPK 6: 3: 2

NPK (WA only) 8: 1.6: 1.5
How to Use
Application
One adult hand (full) holds approximately 100g. Apply Yates Blood & Bone at the following rates:
Preparing garden beds
After digging beds apply 100g per square metre and rake into the top-soil.
Established plants and shrubs
Apply 100g per square metre and lightly rake into the top-soil.
Planting in rows
Sprinkle into 5cm deep trenches placed 5cm on each side of the row.
NOT TO BE USED FOR ANY PURPOSE, OR IN ANY MANNER, CONTRARY TO THIS LABEL UNLESS AUTHORISED
Precautions
Carefully read the label directions and precaution advice when using this product around pets, particularly dogs, as it may be harmful if consumed
Cultivate into the surface and water well to help prevent dogs consuming
Store away from dogs. If dogs consume this product, contact your veterinary surgeon immediately
 THE DUST FROM THIS PRODUCT MAY IRRITATE THE EYES AND SKIN – AVOID CONTACT AND INHALATION OF DUST