Free Shipping When You Spend $50 or More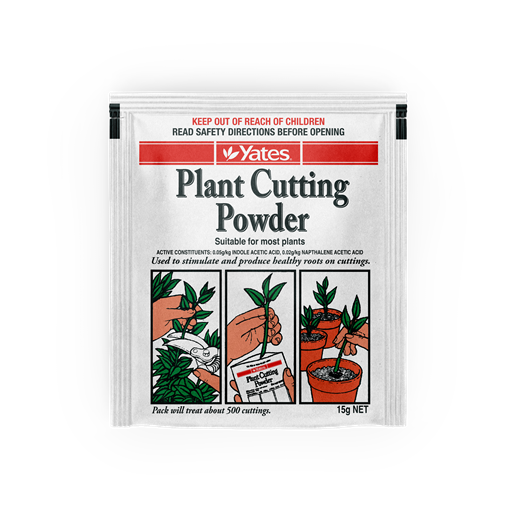 Zoom



Yates 15g Plant Cutting Hormone Powder
Free Shipping When You Spend $50 or More
Description
A cutting powder used to stimulate and produce healthy roots on cuttings.
Features
Suitable for most plants
Pack will treat about 500 cuttings
Specifications
Size

15 g

Ingredient

0.05 g / kg Indole Acetic Acid 0.02 g / kg Naphthalene Acetic Acid
How to Use
Cuttings
Select healthy end growth and cut on an angle or have a 'heel' that has been ripped from the parent branch. Cuttings should be from 50mm to 150mm long. Remove bottom leaves.
Timing
Cuttings are taken from plants after their growth period. This for most plants is late Summer or early Autumn. For shrubs that flower in the winter, (Camellia, Daphne etc) the new wood is ready for propagating around December. For spring flowering shrubs (Azaleas) cuttings are ready in Autumn. Rose cuttings should be taken in October from new wood. When taking cuttings do so in early morning or late afternoon. Plave freshly cut cuttings immediately in water. Plant as soon as possible.
Mediums
Mediums used for the initial rooting stage should be free draining and light. A misture of peat moss and sand is the most common medium used. Ordinary garden soil or sandy loam can be used if it is free-draining and not compacted.
NOT TO BE USED FOR ANY PURPOSE OR IN ANY MANNER CONTRARY TO THIS LABEL UNLESS AUTHORISED
Precautions
Storage & Disposal
Store in a dry well-ventilated area as cool as possible out of direct sunlight. Dispose of containers by placing in plastic bag and putting in garbage.
Safety Directions
Avoid contact with eyes and skin. If product on skin, immediately wash area with soap and water. After use and before eating, drinking or smoking, wash hands, arms and face thoroughly with soap and water.
First Aid
If poisoning occurs, contact a doctor or Poisons Information Centre.