Free Shipping When You Spend $50 or More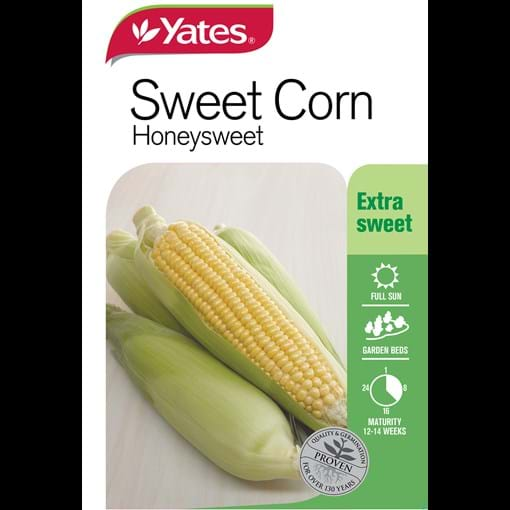 Zoom



Sweet Corn Honeysweet
An early maturing variety of Super Sweet corn.
Description
Features
Early maturing
Well-filled cobs
Easy to grow
Climate Guide
Tropical & Sub-Tropical

Late Summer to Late Spring

Temperate

Spring to Early Summer

Cool

Mid Spring to Early Summer
How to Grow
How
Sow direct where they are to grow when soil is warm. Sow seeds in pairs in damp soil. No further watering is needed until seedlings appear. Thin out the weaker of each pair when approximately 15cm high.
Care
Plant in a well drained, sunny position. Prepare soil by adding Yates Blood & Bone. Water and liquid fertilise regularly with Thrive Soluble Plant Food (particularly in early stages of growth). Pick cobs when fine 'silk' has just browned. Use Yates Success to control Corn Earworm caterpillar. Protect seedlings from snails and slugs with Yates Blitzem.
Hint
Great companion plant for beans, cucumber, parsnip, potatoes, pumpkin, radish, zucchini and squash. Sweet Corn is best grown in blocks of short rows, which ensures better pollination and yield.