Free Shipping When You Spend $50 or More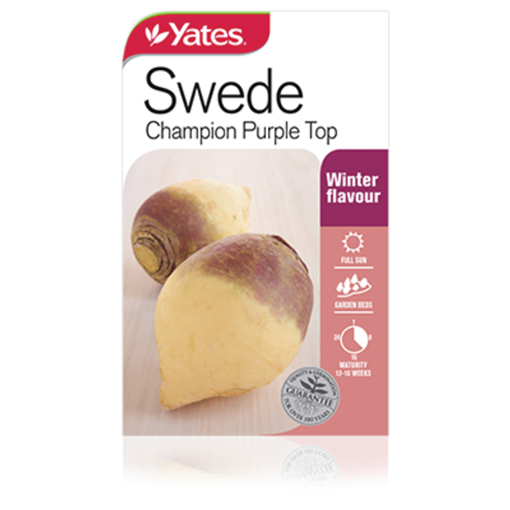 Zoom


Swede Champion Purple Top
Large, tender purple and cream roots with rich yellow flesh.
Description
Features
Stores well
Large roots
Cold tolerant
Climate Guide
Tropical & Sub-Tropical

Late Summer to Early Autumn

Temperate

Late Summer to Early Autumn

Cool

Late Summer or Early Spring
How to Grow
How
Sow direct where they are to grow. Cover with Yates Seed Raising Mix. Firm down well and keep moist. Avoid overcrowding by thinning out and discarding excess seedlings when 4-5 weeks old.
Care
Sow into deep, well drained soil in a sunny position. Add Yates Blood & Bone to soil before sowing to help ensure a good crop. Water well in early stages. Harvest roots while young and tender. Protect from snails and slugs with Yates Blitzem.
Hint
Great companion plant for marjoram, peas and tomatoes.For best flavour, harvest after the first heavy winter frosts.