Free Shipping When You Spend $50 or More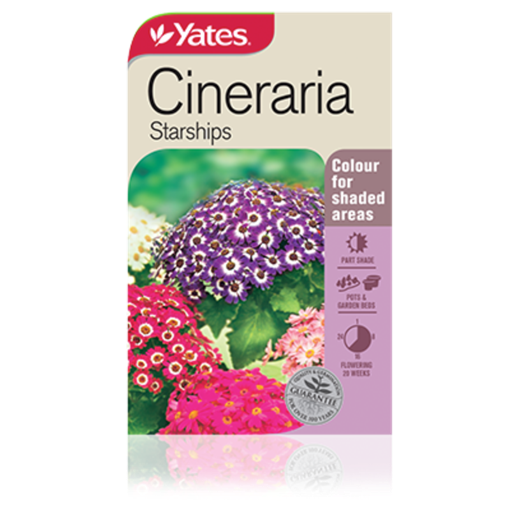 Zoom


Cineraria Starships
This compact variety has large flower heads in bright, colourful clusters.
Description
Features
Annual
Masses of flowers
Pots and garden beds
Climate Guide
Tropical & Sub-Tropical

Late Summer to Autumn

Temperate

Late Summer to Autumn

Cool

Mid Summer Early Autumn
How to Grow
How
Take special care as this seed is very fine. Spread thinly and press lightly (as seeds need light to germinate) into trays of Yates Seed Raising Mix. Water with a fine mist spray. Keep trays in a warm place and retain moisture by covering with glass or plastic cling wrap. Transplant when large enough to handle.
Care
Choose a semi shaded position in well drained soil. Plants grown in shady conditions display the most intense colours. Add Yates Blood & Bone before planting. Water moderately and feed with Yates Thrive Soluble Flower & Fruit Plant Food regularly. Protect from snails and slugs with Yates Blitzem.
Hint
If growing for potted colour, transplant into a 15-20cm pot filled with a premium potting mix.