Free Shipping When You Spend $50 or More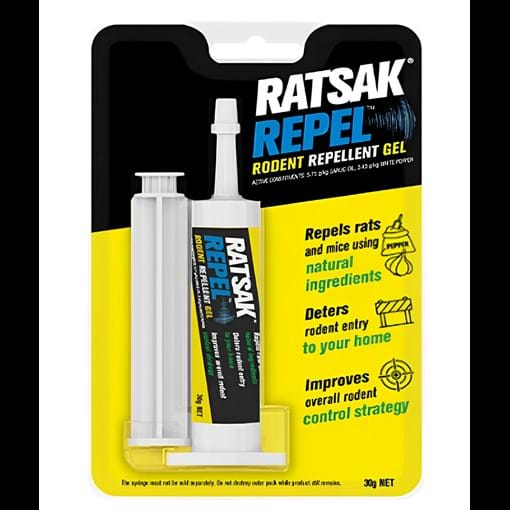 Zoom

RATSAK Repel Rodent Repellent Gel
Repels rats and mice using natural ingredients like pepper and garlic.
Description
RATSAK Repel™ Repellent Gel is a dual action formulation which uses natural ingredients - garlic oil and white pepper - to repel rats and mice. The garlic oil is smell which discourages rodents while white pepper creates an uncomfortable sensation of warmth on their feet and face.
Features
Deters rodent entry to your home by blocking holes and cracks. which rats and mice may be using
Improves overall rodent control strategy
Deters rodent eating wires, cables etc
Easy to use syringe for accurate placement
Create road blocks in rodent travel paths
How to Use
Directions for Use
1. Inspect premises thoroughly and locate all areas where rodents are tracking and entering as deterrent spots must be placed where rodents will pass over them.2. Apply RATSAK Repel Rodent Repellent Gel to any surface where rodents travel, such as beams, ledges, ceiling tiles, trees, gutters, cornices, holes, cracks etc.3. Apply as a 10mm diameter deterrent spot.4. Use several deterrent spots in areas of high rodent pressure.5. Re-apply as necessary.6. Multiple applications may be required in areas of heavy infestation as deterrent spots will be removed by the activity of the rodents.
Handy Rodent Control Tips
Eliminate as far as practical, all alternative food sources.Keep food stored in sealed containers.Repair holes, cracks and crevices that may encourage mice or rats to enter the building.Apply deterrent spots where rodents are tracking or seeking entry to the premises.RATSAK Repel Rodent Repellent Gel should be part of a rodent control strategy. Baiting or trapping with RATSAK products may be required if rodent activity persists.
NOT TO BE USED FOR ANY PURPOSE OR IN ANY MANNER CONTRARY TO THIS LABEL UNLESS AUTHORISED
Precautions
CAUTION & Safety Directions
Should not be used in areas accessible to children.DO NOT contaminate streams, rivers or waterways with the chemical or used containers.If poisoning occurs, contact a Doctor or Poisons Information Centre. Phone Australia 13 11 26KEEP OUT OF REACH OF CHILDRENFOR EMERGENCIES ONLY, CALL 1800 220 770 (ALL HOURS)FOR GENERAL ENQUIRIES SPEAK TO US ON RATCHAT™ VIA the POP UP WINDOW AT THE BOTTOM OF YOUR SCREEN.
Storage & Disposal
Store in a cool, dry place out of reach of children and pets. Do not store in direct sunlight.Dispose of rodent by wrapping in paper, placing in plastic bag and putting in the garbage.