Free Shipping When You Spend $50 or More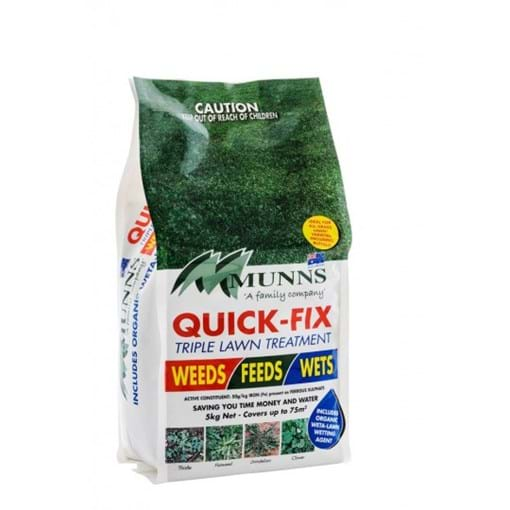 Zoom

Munns 5kg Quick-Fix Triple Lawn Treatment
Description
Quick-Fix Triple Lawn Treatment contains nutrients and organic Weta Lawn and Garden wetting agent to promote fresh green lawn growth while killing clover, flatweeds, thistles, dandelions and other broadleaf weeds.
Suitable for buffalo and all lawn varieties.
This single application of the three products in the weed killer, fertiliser and wetting agent will save you time and money. 
The inclusion of a unique wetting agent allows for a better strike rate for the weed killer and also slows down the release of the fertiliser, in other words the weeds are killed effectively and the fertiliser greens for a longer period.
Specifications
Size

5kg = 75 m2

Ingredients

Nitrogen (N) 5

Iron (Fe) 5

Sulphur (S) 8.5
How to Use
Munns Quick-Fix Triple Lawn Treatment is easy to use. It is ideal for grass lawns including Bent, Couch, Ryegrass, Kikuyu and Buffalo. The types of weeds controlled include thistles, dandelions, flatweeds and any other broadleaf weeds. See below our recommended directions for application for different areas in the garden. 
Suggested application
Apply 1kg over 15 sqm about 20 adult handfuls (one handful = 50g).
Apply to moist grass during fine weather. Water thoroughly after 48 hours. Your lawn may turn black for a few days, but will re-green quickly. 
Avoid windy conditions.
Spread as evenly as possible.
Repeat applications about every six weeks to maintain a weed-free lawn.
Do not exceed the rate of application.
Do not apply to lawns such as Lippia, Clover or Dichondra (Tom Thumb).
Do not apply to lawns under 6 months old.
Avoid application in acid soil areas.
Do not apply during hot or windy weather.
Precautions
Keep out of reach of children.
To prevent staining avoid contact with clothes and wear gloves.
Do not spread or spill material on to hard or non-lawn surfaces.
Avoid walking from the treated areas onto concrete or any non-lawn surface area as heavy staining may occur.
Dispose of packaging appropriately. 
Do not allow chemical or containers to get into drains, sewers streams or ponds. Make sure product is watered in thoroughly after 48 hours of treatment before allowing pets or children on the area.