Free Shipping When You Spend $50 or More
Guide on how to lay Buffalo turf
Below is our guide on how to lay Buffalo turf & enjoy it.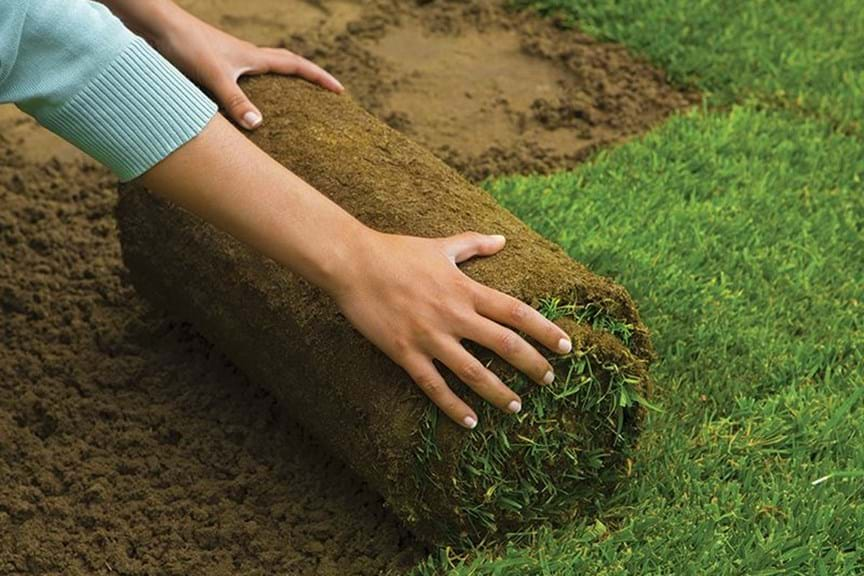 Site preparation
Removal of old grass and weeds, and improving soil with an underlay soil mix is important foundation work that should be carried out before laying new turf. 
It is strongly recommended that this is all completed prior to delivery of your new turf. 
Installing Turf
It is important that the turf is laid as soon as possible on the same day it is delivered. Turf can dry out quickly after it has been cut at the farm, particularly in hot weather. If the weather is hot on the day, lay the turf in sections and water each section as you go. Ensure that an application of Yates Dynamic Lifter Turf Starter has been worked into the top soil to improve the soil quality.
Roll out the turf around the edge of the total area to be laid.
If the area is sloping lay the turf across the slope (laying from left to right across rather than running from the top of the slope down). Start at the bottom of the slope. This ensures that the soil and turf will not slip during heavy rain.
Lay each roll in a brickwork pattern with the length of the rolls parallel to each other. Ensure that each roll is placed tightly next to the next roll without breaking the turf. Fill in all areas so no soil is exposed. Press down firmly on the turf to ensure good contact with the soil. 
To cut the roll of turf to shape or to cut off a bit to fill in small areas, cut to size using clean secateurs or cutting knife.
Watering
Your new lawn will need to be initially cared for with regular watering. Keeping your lawn watered and moist will be important for at least the first 2 weeks. Ensuring that the lawn does not dry out is critical.  The environmental conditions will dictate just how often you will water your lawn.
Watering tips
It is best to water first thing in the morning and then early afternoon (if a second is required) depending on the weather conditions. Avoid watering too late in the afternoon or at night as this can promote disease.
Use sprinklers if possible but otherwise water with a hose so that all the grass is wet including the soil underneath.
How much water? Water area thoroughly, lift turf to make sure soil underneath is thoroughly damp. After that light watering 2-4 times a day. Ideally the soil should be moist 7 to 10 cm below the surface. 
A simple way to check how much water is being applied to your lawn is to push a screwdriver or other sharp tool into the soil. It should push in easily and have moisture along the first 7 to 10cm (3 to 4 inches) or you will need to apply more water.
Ensure the edges of your lawn get enough water. Be sure, particularly on windy days, that water is thoroughly reaching outer areas.
Shaded areas require less moisture than sunny locations. Do not keep the grass saturated with water.
Keep an eye out for turf turning grey/white, if it does lightly water the leaf only.
Watering Requirements

 

Week 1

 

 

 

Week 2

 

 

 

Week 3

 

 

 

Week 4

 

 

 

Week 5+

 

 

Spring

 

 

1-2 times a day,

3 times in extreme heat

 

 

1-2 times a day

 

 

1 time a day

 

 

Every 2-3 days

 

 

Every 3-4 days

 

 

Summer

 

 

1-2 times a day,

4-5 times in extreme heat

 

 

1-2 times a day,

4-5 times in extreme heat

 

 

Every 1-2 days

 

 

Every 1-2 days

 

 

Every 2-3 days

 

 

Autumn 

 

 

1-2 times a day,

3 times in extreme heat

 

 

1-2 times a day

 

 

1 time a day

 

 

Every 2-3 days

 

 

Every 3-4 days

 

 
Note: The watering requirements are broad recommendations based on general environmental conditions. Factors such as location, sun exposure, shade, wind, natural rainfall, heat reflection off buildings can impact the lawn. It is important that close attention is made to your lawn during the establishing phase and alterations to water requirements are made as needed. 
Mowing
During the establishment phase of your lawn, it is most important to keep it watered to assist with your lawn setting down roots into the soil. Over this time it is best to wait before you first mow the lawn.
Mowing can usually be done 2-3 weeks (longer in winter) after laying as the lawn roots should have penetrated into the soil by then. At this point you can lightly mow, just enough to remove the tips, approximately 6 cm or more high, and in the same direction the turf was laid.
Using the lawn
It is important to avoid excessive walking on the lawn for the first few weeks after installation. Try to minimise traffic on the lawn for 3-4 weeks after installation. More time is recommended during the cooler periods of the year.