Free Shipping When You Spend $50 or More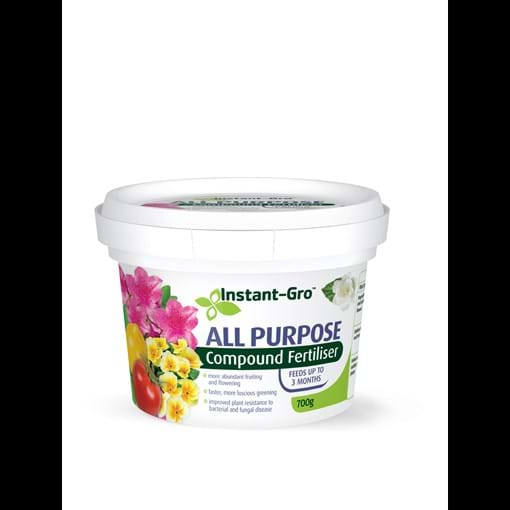 Zoom


Instant-Gro 700g All Purpose Compound Fertiliser
Free Shipping When You Spend $50 or More
Description
Instant-Gro All Purpose Compound Fertiliser contains a blend of nitrogen, phosphorus and potassium along with added magnesium, sulfur, calcium and micronutrients, which deliver an instant boost and greening effect to your garden for up to 3 months. It is ideal for use on most indoor and outdoor potted plants and garden applications (not suitable for plants that are highly sensitive to phosphorus such as certain banksias, proteas and grevilleas).
Features
Can be used on vegetables, outdoor flowers, trees, indoor & outdoor potted plants
Contains fast-acting nutrients and a balanced blend of NPK
More abundant fruiting and flowering of plants
Faster, more luscious greening
Improved plant resistance to bacterial and fungal disease
Specifications
Size

700 g

Ingredient

NPK 13.8: 2: 15.8
How to Use
Use the enclosed measuring spoon. One level spoonful holds 5 grams. Ensure soil is moist prior to application. Always water in immediately after application.
How to Apply
Vegetables & outdoor flowers: Spread 25-50g per square metre at planting time. Repeat every 2-3 months. Use the higher rate for poor soils or fast growing crops such as lettuce, cabbages or other leafy greens. Outdoor shrubs & trees: Spread 25-50g per square metre in early spring. Do not apply closer than 30cm from the trunk. Repeat every 2-3 months. Indoor & outdoor potted plants: Use 5g per 25cm pot or 10g per 40cm pot but use half of these amounts for African violets, ferns and palms. Apply only around outer edge of the pot, not close to trunk. Repeat application every 2-3 months.
Precautions
Do not apply when maximum temperature is expected to reach above 30C. Avoid over-application and contact with plant foliage. Do not apply to phosphorus-sensitive plants. Keep out of reach of children and pets. Danger: harmful if swallowed. Causes skin irritation and serious eye damage. Wear protective clothing, gloves, mask and eye wear. Always wash hands and exposed skin after use. Avoid release into the environment.