Free Shipping When You Spend $50 or More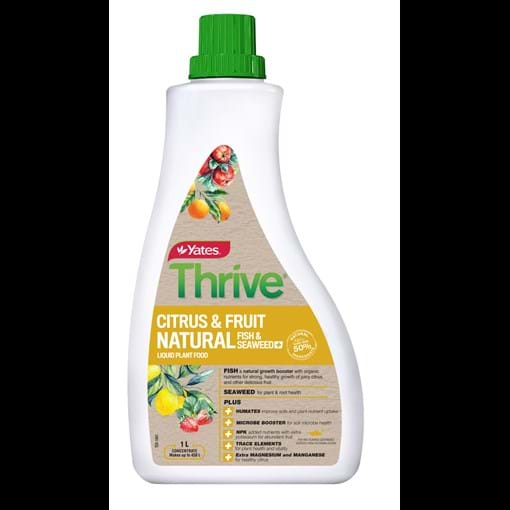 Zoom



Yates 1L Thrive Natural Citrus & Fruit Liquid Plant Food Concentrate
Free Shipping When You Spend $50 or More
Description
Yates Thrive Citrus & Fruit Natural Fish & Seaweed+ is a complete plant food specially developed for boosting healthy grown and yield of juicy fruit in citrus and other fruiting plants. The dual action formula feeds through both leaves and roots for fast results.
Features
Contains inorganic and more than 50% natural organic ingredients. (including fish, seaweed, fish blood & bone, humates)
Dual acting formula feeds both through leaves and roots for fast visible results
Contains cold composted fish and seaweed
Fish and seaweed in the formula is sustainably sourced from southern oceans (Australia
The 1 L bottle includes a measure and pour non spill cap
Specifications
Size

1 L

Ingredient

NPK 11: 2.5: 8 Plus magnesium (Mg), manganese (Mn) and trace elements
How to Use
Directions for Use
Shake bottle well before use. Always dilute with water before use. Wet leaves and surrounding soil. 1 capful = approximately 40ml.
Precautions
If applying to foliage, DO NOT apply when temperatures are expected to reach over 30°C
Avoid applying when the soil is dry or the plants are suffering from moisture stress