Free Shipping When You Spend $50 or More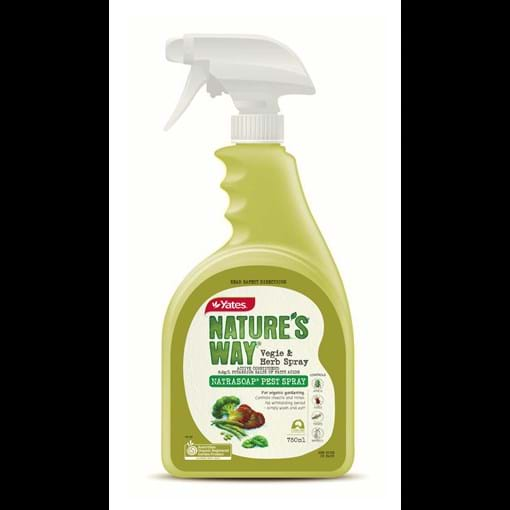 Zoom

Yates 750ml Nature's Way Vegie And Herb Pest Spray
Free Shipping When You Spend $50 or More
Description
A soap based spray made from natural vegetable oils, Yates Nature's Way Vegie & Herb Spray controls insects and mites on home grown vegetables, herbs, fruit and ornamental plants. No withholding period means you can eat vegetables and herbs without waiting, simply wash before eating.
Features
Soap based spray, suitable for organic gardeners
Easy to use spray bottle
Specifications
Size

750 mL

Ingredient

8.5 g / L Potassium salts of fatty acids
How to Use
Shake bottle well before use. Spray both sides of foliage thoroughly when pests are first noticed. Apply just to the point of run off. Reapply every 5-7 days or as required. The best time to apply is in the cool of the early morning or late evening.
Precautions
DO NOT mix with other chemicals.
DO NOT spray when shade temperatures exceed 30C.
DO NOT spray when soil is dry and plants are suffering from moisture stress.
DO NOT spray if rain is expected within 24 hours.
DO NOT use on delicate plants such as ferns, mosses and flowers and avoid over applying on soft foliage plants.
DO NOT allow chemical containers or spray to get into drains, sewers, streams or ponds.
Storage & Disposal
Store in the closed, original container in a cool, dry place out of reach of children. DO NOT store in direct sunlight. Dispose of empty container by wrapping in paper, placing in plastic bag and putting in garbage.
First Aid
If poisoning occurs, contact a doctor or Poisons Information Centre, Phone Australia 131126.
Liability
This product must be used strictly as directed. ®Yates will not be liable for any loss or damage arising from a failure to strictly follow the directions for use.