Free Shipping When You Spend $50 or More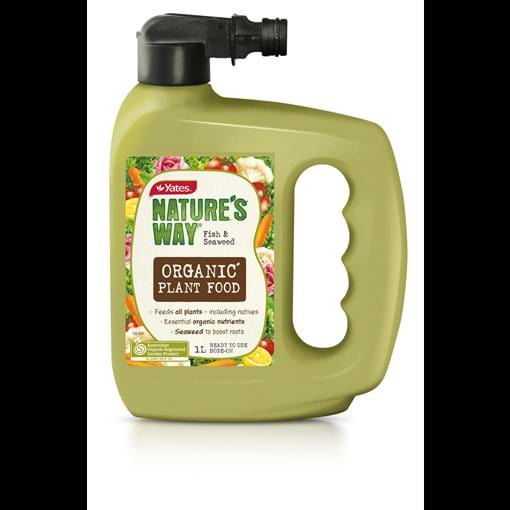 Zoom

Yates 1L Nature's Way Organic Plant Food Hose-On
Free Shipping When You Spend $50 or More
Description
Yates Nature's Way Organic Plant Food is a complete fertiliser for organic gardens and lawns. Regular application will gently feed, help promote root development and improve the soil. Safe for use on all plants, including natives.
Features
Organic garden fertiliser
Contains fish, seaweed and fulvates
Added potassium to strengthen plants
Essential organic nutrients
Seaweed to boost roots
1L ready to use, hose-on pack
Easy to use hose-on formulation, just connect to your hose and it's ready to go
Suitable to feed all plants, including natives
Certified Organic
Suitable for both gardens and lawns!
Feeds 35m2
Specifications
Size

1 L

Ingredient

NPK 0.8: 0.1: 0.5
How to Use
Shake bottle well before use. Connect to hose with click-on hose connector. Lever open plastic flap to upright position at front of applicator. Open tap at low to medium pressure. Wet leaves and surrounding soil while sweeping spray back and forth. After use, close flap and store upright.
Precautions
Keep out of reach of children and pets.
Apply in the cool of day.
Do not apply when temperatures are over 30°C.
Do not swallow.
Avoid inhalation and contact with eyes and skin.
Wash hands and affected parts after use.
Store in a cool, dry place.
Please rinse and recycle bottle.