Free Shipping When You Spend $50 or More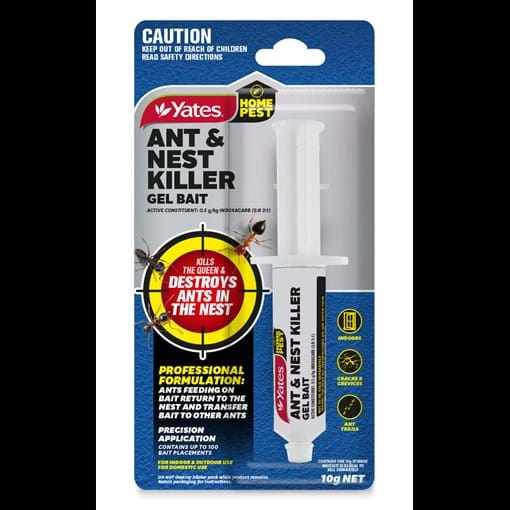 Zoom

Yates 10g Home Pest Ant & Nest Killer Gel Bait
Description
Professional technology gel bait kills ants including the queen and eradicates the nest.
Features
Kills the ant and eradicates the nest
Worker ants feed on the bait and take it back to the nest. Kills the queen and destroys ants in the nest
Entices ants to the bait with a sugar-based attractant
Great value with up to 100 bait placements!
Specifications
Size

10 g

Ingredient

0.5 g / kg Indoxacarb S:R 3:1
How to Use
Directions for Use
1. Locate the nest entrance, ant trails or locations where ants are most active.2. Remove cap from the end of the syringe and touch the nozzle to the surface. Lightly depress the plunger to squeeze out approximately 5mm length of gel for each spot.3. Apply a minimum of 1 to 3 spots per m2 around the nest entrance, along ant trails or other locations where ants are most active.4. Replace cap after use.5. Re-apply when all gel spots are consumed and ant activity continues.
Precautions
CAUTION
DO NOT place in exposed areas accessible to children, pets and other animals. DO NOT allow to contact food, pet food or their water. DO NOT allow chemical containers or gel to get into drains, sewers, streams or ponds. DO NOT apply to surfaces where temperatures exceed 50 degrees C, as the gel may liquify and lose performance.
Storage & Disposal
Store in the closed, original container in a cool, dry place out of the reach of children. DO NOT store in direct sunlight. Dispose of empty container by wrapping in paper, placing in plastic bag and putting in garbage.