Free Shipping When You Spend $50 or More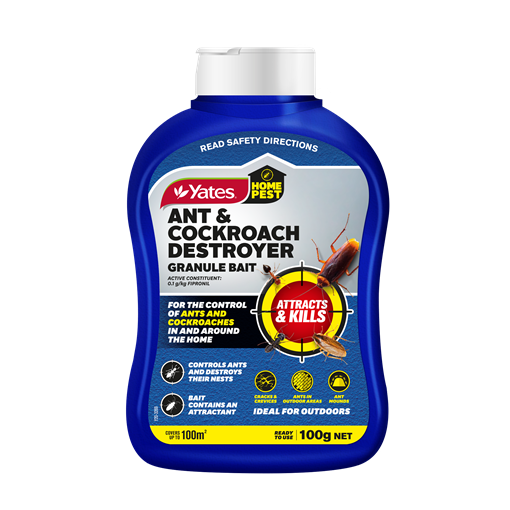 Zoom

Yates 100g Home Pest Ant & Cockroach Destroyer Granule Bait
Description
Kill Ants & Cockroaches with just 1 product! Yates Home Pest Ant & Cockroach Destroyer Granule Bait attracts and kills pests, and eradicates the nest.
Features
Attracts & kills ants and cockroaches
Kill 2 pests with just 1 product – great value and covers up to 100m2
Kills the pests you see and the ones you can't
Kills the ants, and cockroaches, and the nest! The pest is attracted to the bait, and then transfers it to the colony, eradicating pests in the nest
Professional bait technology superior to standard contact-killer ant sands
Shaker cap for easy application outdoors and indoors. Best applied in cracks and crevices, near ant mounds or around areas of pest activity
Specifications
Size

100 g

Ingredient

0.1 g / kg Fipronil
How to Use
Directions for Use
Treatments around structures: Sprinkle evenly in a 30 to 60 cm band, adjacent to the foundations of buildings, along driveways, paths, gardens and around trees when ants are most active, usually late afternoon. Re-apply as necessary.Lawns and Gardens: Apply by shaking uniformly over lawns, gardens and other non-crop areas where ants are active.Ant Mounts: Sprinkle around each ant mount (DO NOT use food utensils). For best results do NOT apply directly to the mound, nor disturb the ants or mound.Household Areas: DO NOT use in areas accessible to children. Apply by shaking into cracks or crevices (DO NOT use food utensils). Remove any loose or excess granules.Sub floor & Roof Voids: Apply to crawl spaces inaccessible to children and pets. Sprinkle uniformly.
Precautions
CAUTION
DO NOT use in areas accessible to children. DO NOT apply directly on humans, pets, exposed food, food preparation areas or food utensils. Highly toxic to fish and aquatic invertebrates. DO NOT allow chemical containers or spray to get into drains, sewers, streams or ponds. DO NOT place baits in locations which are accessible to domestic animals, livestock or birds. If product is split, collect or spread granules to discourage eating.
Storage & Disposal
Store in the closed, original container in a cool, dry place out of the reach of children. DO NOT store in direct sunlight. Dispose of empty container by wrapping in paper, placing in plastic bag and putting in garbage.
Safety Directions
Will irritate the eyes. Avoid contact with eyes. Wash hands after use. If dispensing by hand wear rubber gloves.