Free Shipping When You Spend $50 or More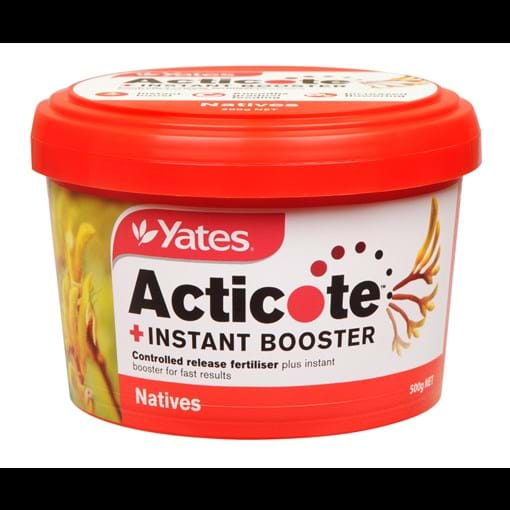 Zoom

Yates 500g Acticote + Instant Booster Controlled Release Fertiliser for Natives
Free Shipping When You Spend $50 or More
Description
A special combination of advanced fertiliser technology that gives your plants an instant release of nutrients, then continues feeding for up to 6 months (depending on temperature and soil moisture).
Features
Contains advanced prill coating technology that ensures fertiliser is released evenly and gradually over time.
Ideal for use on all native plants.
This formulation is rich in nitrogen and potassium to encourage healthy leaf growth and increased flowering.
Low in phosphorus which makes it suitable for phosphorus sensitive natives such as grevilleas, banksias and waratahs.
Specifications
Size

500 g

Ingredient

NPK 10: 0.3: 9 Plus sulphur (S), calcium (Ca), magnesium (Mg)
How to Use
When to Apply
For best results apply in early spring and late summer/autumn when new growth appears.
Application
Outdoor Native Trees, Shrubs and Ornamentals 30g or 3 level spoonfuls per m² around the root zone. Gently rake into topsoil. DO NOT apply closer than 30cm from trunk. Feeds up to 16m² of garden.
Precautions
DO NOT apply when maximum temperature is expected to reach above 30°C or if the plant is suffering moisture stress
Apply no closer than 30cm from trunk