Free Shipping When You Spend $50 or More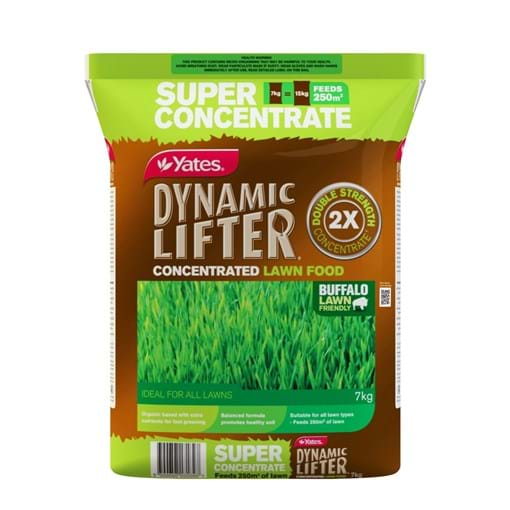 Zoom
Yates 7kg Dynamic Lifter Concentrated Lawn Food
Description
An organic based concentrated lawn fertiliser that provides dual benefits of fast acting nutrients and slow release organics which mean you feed more lawn using less. The special blend of fast acting nutrients deliver quick visible results and the slow release organic ingredients promote long term soil health.
Features
New concentrated formula that feeds more lawn with less – 250m². Increases soil nutrients to promote healthy lawn growth
Granulated formulation for easy application
Suitable to use on all types of lawns, including buffalo, couch, and kikuyu
Meets WA fertiliser legislation
Specifications
Size

7 kg

Ingredient

NPK 10: 0.8: 5 Plus sulphur (S) and calcium (Ca)
How to Use
Directions for Use
Yates Dynamic Lifter Concentrated Lawn Food is ideal to use on all types of lawn, including buffalo. Always water well after application. As a guide, one adult handful holds about 70g. One cupful holds about 140g.
Established lawns
Spread about 70g per 2.5 square metres or 2.8kg per 100 square metres of lawn. Apply once in spring, in early summer and in early autumn. Spread evenly across the lawn surface and water well after application. To avoid collecting fertiliser in the mower catcher, wait one week after fertilising before mowing the lawn.
Planting new lawns from seed
Spread about 50g per square metre or 5kg per 100 square metres. Apply evenly and incorporate into the top 10cm of the soil prior to seeding. Water soil prior to seeding, and keep newly sown areas well watered.
Establishing new lawns from turf
Apply to prepared soil at about 50g per square metre. Alternatively you can apply Yates Dynamic Lifter Turf Starter – a composted manure pelletised with water storage crystals that help establish your newly laid turf.
Precautions
Do not use in areas of ruminant grazing
This product may be harmful to pets, especially dogs, if consumed. Avoid heaping as this may attract dogs
Cultivate into the surface and water well to help prevent dogs consuming
Store away from dogs. If dogs consume this product, contact your veterinary surgeon immediately
DO NOT apply when maximum temperature is expected to reach above 30°C or if the lawn is suffering moisture stress
This product contains restricted animal material – DO NOT FEED TO CATTLE, SHEEP, GOATS, DEER OR OTHER RUMINANTS
May raise pH over time, so care may be needed with alkaline soils.