Free Shipping When You Spend $50 or More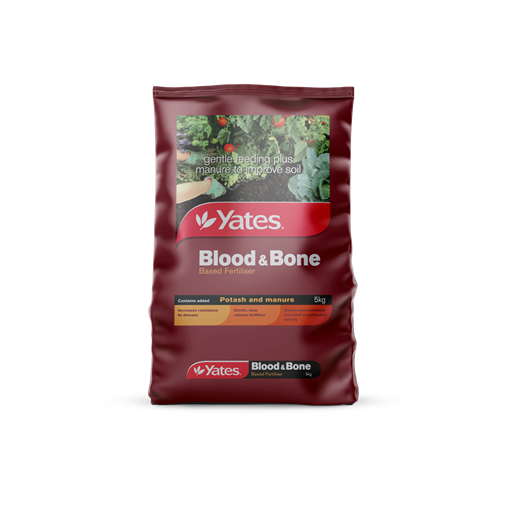 Zoom

Yates 5kg Blood & Bone Organically Based * Plant Food
Free Shipping When You Spend $50 or More
Description
An organic based fertiliser suitable for all garden plants, although we recommend limiting use on native plants. Provides nitrogen for healthy leaf growth and phosphorus for strong root development.
Features
65% pure high quality organic meat meal
Improves soil structure, promotes soil micro-organisms and encourage earthworms
Includes cow manure which is a gentle source of nutrients, plus soil conditioner
Suitable for most vegies and flowers including exotics
Specifications
Size

5 kg

Other Sizes Available

Ingredient

NPK 6: 3: 2
How to Use
Application
As a guide, one adult handful holds about 40g. One cupful holds about 180g. ALWAYS WATER WELL AFTER APPLICATION
Preparing vegetable, flower & garden beds
Apply 120g per square metre after preparinf beds and rake into the top-soil
Planting new trees & shrubs(where no fertiliser has previosuly been applied)
For Sandy soils apply 120g per square metre. For clat and heavier loam soils apply 240g per square metre for the first 2 years and then 120g for following years
Established plants and shrubs
Apply 120g per square metre around the root zone, lightly rake into the top-soil and water in well.
NOT TO BE USED FOR ANY PURPOSE OR IN ANY MANNER CONTRARY TO THIS LABEL UNLESS AUTHORISED
Precautions
PRECAUTIONS: Do not apply when maximum temperature is above 30°C or when soil is dry and plants are suffering from moisture stress. Avoid excessive contact with plant foliage.
Carefully read the label directions and precaution advice when using this product around pets, particularly dogs, as it may be harmful if consumed
Store product in a cool, dry place out of direct sunlight. Keep out of reach of children and pets.
PET SAFETY: If consumed, this product may be harmful to pets, especially dogs. Should dogs consume this product, contact your veterinary surgeon immediately.
Avoid heaping Yates® Blood & Bone Organically Based * Plant Food as this may attract dogs. Cultivate into surface and water well to help prevent dogs consuming. Store away from dogs.
NOTICE: This product contains restricted animal material – DO NOT FEED TO CATTLE, SHEEP, GOATS, DEER OR OTHER RUMINANT ANIMALS. DO NOT APPLY WHERE RUMINANTS ARE GRAZING. ALWAYS CULTIVATE INTO THE SOIL AND WATER WELL. ALLOW AT LEAST 3 WEEKS BEFORE ALLOWING RUMINANTS TO ENTER AREA
HEALTH WARNING: ORGANIC FERTILISERS CONTAIN MICRO-ORGANISMS THAT MAY BE HARMFUL TO YOUR HEALTH. THE DUST MAY ACT AS AN IRRITANT. AVOID EYE OR SKIN CONTACT AND BREATHING OR SWALLOWING DUST. WEAR EYE PROTECTION, DUST MASK AND GLOVES. WASH HANDS IMMEDIATELY AFTER USE. READ DETAILED LABEL ON THIS BAG.
Precaution
Carefully read the label directions and precaution advice when using this product around pets, particularly dogs, as it may be harmful if consumed
Cultivate into the surface and water well to help prevent dogs consuming
Store away from dogs. If dogs consume this product, contact your veterinary surgeon immediately
THE DUST FROM THIS PRODUCT MAY IRRITATE THE EYES AND SKIN – AVOID CONTACT AND INHALATION OF DUST