Free Shipping When You Spend $50 or More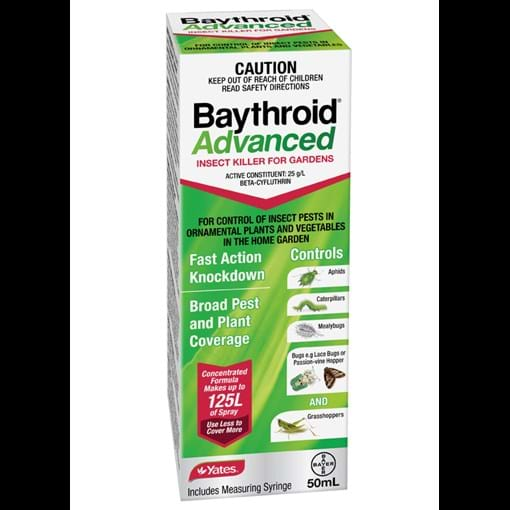 Zoom

Yates 50ml Baythroid Advanced Insect Killer For Gardens
Description
For control of insect pests in ornamental plants and vegetables in the home garden.
Features
The multi-pest insecticide that controls Aphids, Caterpillars, Mealybug, Whiteflies, Thrips, Grasshoppers and more on your ornamental plants and vegetables.
Broad pest coverage – controls a wide range of insect pests, including chewing and sucking pests.
Controls insect pests quickly. Beta-cyfluthrin is fast-acting and provides rapid action knock-down of pests.
Broad plant coverage – can be used on ornamentals, vegetables and native plants.
Great value 50 mL Concentrate – makes up to 125 L of spray.
Includes measuring syringe.
Specifications
Size

50 mL

Ingredient

25 g / L Beta-Cyfluthrin
How to Use
How to Prepare
Add the required quantity of Baythroid Advanced Insect Killer for Gardens to water and mix thoroughly. DO NOT mix more spray than can be used on the day of mixing.
Ornamental Plants
Pest - GrasshoppersRate - Mix 6 mL per 1 litre of waterHow to Apply - Spray plants directly when pest insects are seen. Adequate coverage of plant is essential for effective protection. Repeat as necessary. See note on plant safety.
Ornamentals; and Broccoli, Brussels Sprouts, Cabbages, Cauliflowers, & Tomatoes.
Pest - Aphids, Bugs (eg Passionvine Hopper, Mealy Bug, Lace Bugs), Caterpillars, Garden Weevil, Whiteflies, and Thrips.Rate - Mix 2 to 4 mL in 5 litres of water.How to Apply - Spray foliage thoroughly when insects are first seen or if they reappear. Spray underneath leaf surfaces. See note on plant safety. DO NOT spray if it is raining or about to rain.
Native Plants
Pest - Sawfly LarvaeRate - Mix 6 mL per 1 litre of water.How to Apply - Apply thoroughly as a full cover spray. Repeat at beginning of renewed pest activity. See note on plant safety. DO NOT spray if it raining or about to rain.
Red Imported Fire Ant (Solenopsis invicta) QLD ONLY
Pest - Red Imported Fire Ant (Solenopsis invicta)Plant/Situation: For use in QLD ONLY. Potted plants, containerised plants and bagged root-balled plants (not including fruit trees or other food-producing plants).Rate - Apply 16 mL product / 10 L water as a pot/container/bag drench.Restraint - DO NOT apply to food-producing plants, including but not limited to, vegetables (including seedlings) and fruit trees. DO NOT dip pots into prepared dip/bath solution. Apply ONLY as a drench. DO NOT apply when bees are foraging.Critical Use Comments - Apply once only prior to movement of plant. Apply as a pot drench. Move treated stock offsite from 48-72 hours after application to maintain the potency of the product to fire ants. To minimise operator exposure to the product, DO NOT handle treated pots/containers/bags for 48 hours post treatment. Always use rubber gloves when handling pots/containers/bags.To Avoid Plant Damage - The sensitivity of the crop to be treated under this permit has not been fully evaluated. It is advisable to only treat a small area to ascertain the reaction before treating the whole crop.Permit Holder - DAF - Biosecurity QLD Control Centre, 145 Wayne Goss Drive, Berrinba, QLD, 4117.Permit Conditions - Permit is in force from 8 July 2021 to 31 July 2024 and is only for use in Queensland, Australia.Permit Number - PER89374
Withholding Period
DO NOT PICK: vegetables (except Tomatoes) for 7 days after spraying. Tomatoes for 1 day after spraying.
Precautions
CAUTION
DO NOT allow chemical container or spray to get into drains, sewers, streams or ponds. Dangerous to fish. Cover fish tanks or ponds before using.DO NOT spray if bees are feeding on flowering plants. Will kill bees.DO NOT graze Treated lawns or feed lawn clippings from any treated area to poultry or livestock.Children and pets may re-enter the treated area after the spray has dried.
Plant Safety
Baythroid Advanced Insect Killer for Gardens has been used on a wide range of ornamental plant species and plant safety has been demonstrated. Since the susceptibility of ornamental varieties can vary it is recommended to test the product on a small number of plants first in order to assess the level of plant safety.
Storage & Disposal
Store in the closed, original container in a cool, dry place out of reach of children. DO NOT store in direct sunlight. Dispose of empty container by wrapping in paper, placing in plastic bag and putting in garbage.
Safety Directions
After use and before eating, drinking or smoking, wash hands, arms and face thoroughly with soap and water.
First Aid
If poisoning occurs, contact a doctor or Poisons Information Centre (Phone Australia 13 11 26). Remove from contaminated area. Apply artificial respiration if not breathing.For 24 hour specialist advice in an emergency only, phone 1800 033 111.