Free Shipping When You Spend $50 or More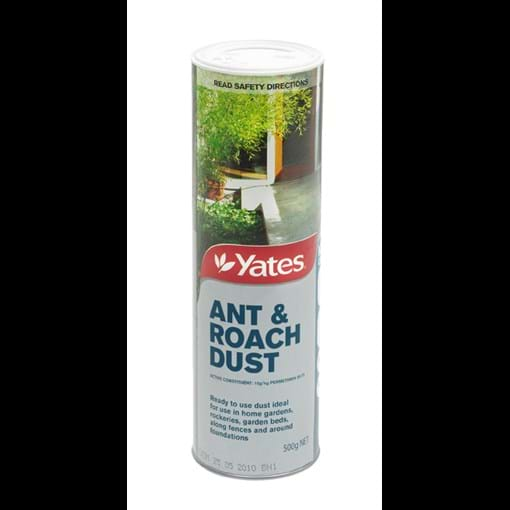 Zoom
Yates 500g Ant & Roach Killer Dust
Description
Controls ants, cockroaches, fleas and European Wasps outside the house. Ready to use dust ideal for use in home gardens, rockeries, garden beds, along fences and around foundations.
Features
Convenient shaker Pack
Registered for use on European wasps (NOT QLD or SA)
Specifications
Size

500 g

Ingredient

10 g / kg Permethrin
How to Use
Directions for Use
DO NOT use on or around edible crops.DO NOT use indoors or on pets.Home gardens Rockeries, garden beds, along fences and around foundations.To treat Ants, cockroaches and fleas, dust lightly along and around ant tracks, into nests or other pest infested areas. Repeat applications may be required. As a guide, 500g of Yates Ant & Roach Dust will treat 50m2.To treat European wasps (NOT QLD or SA),apply sufficient dust to thoroughly coat nest entrance. Treat at night when wasps are less active. Wear protective clothing when treating nests (bee veil, long sleeved overalls and gloves). Reapply dust as required to maintain an even coating, particularly after rain.
Precautions
CAUTION
Keep pets and children away from treated areas. Dangerous to bees and reptiles. Dangerous to fish. DO NOT allow chemical containers or product to get into drains, sewers, streams or ponds.
Storage & Disposal
Store in the closed, original container in a cool, dry place out of reach of children. DO NOT store in direct sunlight. Dispose of empty container by wrapping in paper, placing in plastic bag and putting in garbage.
Safety Directions
Avoid contact with the eTRUE and skin. Avoid inhailing dust. When using the product, wear rubber gloves. Wash hands after use.
First Aid
If poisoning occurs, contact a doctor or Poisons Information Centre. Phone Australia 131126.
Liability
This product must be used strictly as directed. Yates will NOT be liable for any loss or damage arising from a failure to strictly follow the directions for use.