Free Shipping When You Spend $50 or More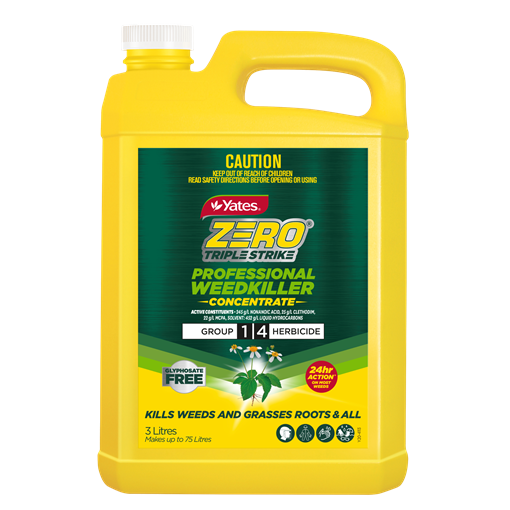 Zoom

Yates 3L Zero Triple Strike Professional Weedkiller Concentrate
Description
NEW Yates Zero Triple Strike Garden Weedkiller Concentrate is the first glyphosate-free systemic garden weedkiller launched in Australia.

It is a contact and systemic weed control product that penetrates the weed tissue, accelerates cell disruption and terminates weeds, roots and all. Results are seen as browning and wilting leading to plant death.

The new easy measuring and dosing bottle helps to minimise contact with the formulation. The measuring chamber positioned at the top of the bottle creates an efficient measuring device, locking additional liquid from coming out when dosing and allowing the formulation to return to the main bottle if over-filled.

*Visible results can take longer than 24 hours on certain tough weeds or weeds in shaded conditions.
Features
Glyphosate-free
24 hour action*
Concentrate in large size for larger weed control projects
Non-selective and kills both broadleaf and grass weeds
Systemic action kills weeds, roots and all
Specifications
How to Use
Restraints
DO NOT spray if weeds are wet.DO NOT apply if rainfall is expected before spray deposits dry on plant surfaces.DO NOT water treated area for 24 hours to achieve maximum results.DO NOT allow bystanders (and pets) to come into contact with the spray.
Situation
Non-agricultural areas around buildings, commercial, domestic, industrial and public service areas, gardens, paths and parks.
Weeds Controlled
Annual and perennial weeds and grasses including: Sowthistle, fleabane, prairie grass, cobbler's peg, crowsfoot grass, Singapore daisy, red flowered mallow, wintergrass, clover, common paspalum, plantain and purple flowered vetch.
Rate
40 ml/L OR 200 ml/5 L OR 4 L/100 L
Critical Comments
Spray to completely cover weed surface. Re-application at around 10-14 days may be necessary if regrowth occurs. This product may damage lawn and turf when used as a spot spray.Perennial weed species may require repeated applications to obtain long term control.
Mixing
Shake well before use. Add approximately half of the water to the spray container/tank first, then add the product and finally top up with water to the required amount. Do not mix more than is needed.
Application
Ensure that all weed foliage is covered with Yates Zero Triple Strike Professional Weedkiller Concentrate spray for maximum efficacy. Shake or agitate spray mix during application to keep well mixed. Avoid spraying plants that you do not want to kill and if accidentally sprayed immediately hose with water.
Precautions
Precautions
RE-ENTRY: DO NOT allow bystanders (and pets) to come into contact with the spray.Re-entry statement for the general public: DO NOT allow entry into treated areas until the spray has dried.Re-entry statement for occupational users: DO NOT enter treated areas until the spray has dried, unless wearing cotton overalls buttoned to the neck and wrist (or equivalent clothing) and chemical resistant gloves. Clothing must be laundered after each day's use.
Protections
PROTECTION OF LIVESTOCKDO NOT feed treated plants or feed treated grass clippings to animals or use to mulch plants.PROTECTION OF CROPS, NATIVE AND OTHER NON-TARGET PLANTSToxic to plants. DO NOT allow spray to contact or drift onto plants you do not want killed.PROTECTION OF WILDLIFE, FISH, CRUSTACEANS AND ENVIRONMENTToxic to aquatic life. DO NOT contaminate wetlands or watercourses with this product or used containers.PROTECTION OF HONEY BEES AND OTHER INSECT POLLINATORSHarmful to bees. DO NOT spray if bees are feeding on flowering plants.INTEGRATED PEST MANAGEMENTToxic to beneficial arthropods. Not compatible with integrated pest management (IPM) programs utilising beneficial arthropods.
Storage & Disposal
Store in the closed, original container in a cool, well-ventilated area. Do not store for prolonged periods in direct sunlight. Triple-rinse containers before disposal. Add rinsings to spray tank.Do not dispose of undiluted chemicals on site. If recycling, replace cap and return clean containers to recycler or designated collection point. If not recycling, break, crush, or puncture and deliver empty packaging to an approved waste management facility. If an approved waste management facility is not available, bury the empty packaging 500mm below the surface in a disposal pit specifically marked and set up for this purpose, clear of waterways, desirable vegetation and tree roots, in compliance with relevant local, state or territory government regulations. Do not burn empty containers or product.
Safety Directions
Avoid contact with eyes and skin. Will damage the eyes and skin. May irritate the nose and throat. Do not inhale spray mist. When opening the container, preparing spray and using the prepared spray, wear cotton overalls buttoned to the neck and wrist (or equivalent clothing) and a washable hat and elbow-length chemical resistant gloves and face shield. Wash hands after use. After each day's use, wash gloves and face shield and contaminated clothing.
First Aid Instructions
If poisoning occurs, contact a doctor or Poisons Information Centre. Phone Australia 131126. If swallowed, do NOT induce vomiting. If skin contact occurs, remove contaminated clothing and wash skin thoroughly. If in eyes, hold eyes open, flood with water for at least 15 minutes and see a doctor.