Free Shipping When You Spend $50 or More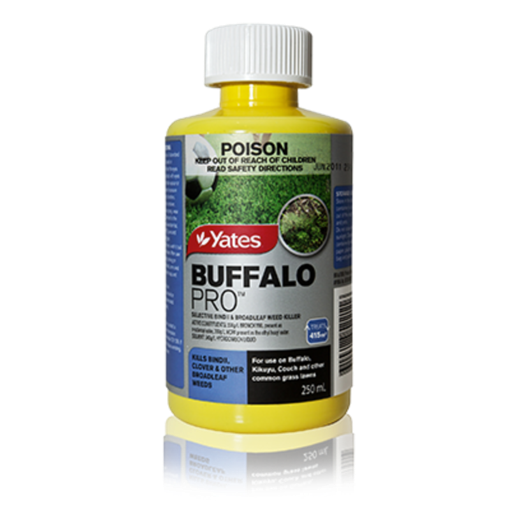 Zoom



Yates 250mL Buffalo PRO Weed Killer Concentrate
Description
Features
Suitable for use on Buffalo Lawns
Also suitable for use on Kikuyu, Couch, QLD Blue, Couch, Bent, Fescue, Paspalum and Ryegrass lawns
Selectively controls Bindii, Clover, Jo-Jo, Catsear, Cudweed, Dandelion, Plantains (Lamb's Tongue), Thistles, Creeping Oxalis, Capeweed, Creeping Buttercup, and Fleabane
Plastic bottle with a child resistant cap
250 mL concentrate treats 415 m2
Specifications
Size

250 mL

Ingredient

200 g / L Bromoxynil 200 g / L MCPA Solvent: 343 g / L Hydrocarbon Liquid
How to Use
Directions for Use
DO NOT apply in windy conditions, or if rain is expected within 24 hours. DO NOT apply if shade temperatures are expected to exceed 30 ºC within a 72 hour period. DO NOT apply when soil is dry and lawn is suffering from moisture stress. DO NOT mow or fertilise for 7 days before or after application. DO NOT use on Lippia, Dichondra, Durban grass, Strawberry clover or ST variety Buffalo lawns and new lawns less than 3 months old. Before application onto new varieties of Buffalo grass, test on a small area first.
Situation
Established home garden Buffalo (except for ST varieties. Please note, ST does not stand for shade tolerant it is a specific variety, such as ST-26), Couch, Kikuyu, QLD BLue Couch, Bent, Fescue, Paspalum, and Ryegrass lawns.
Weed Controlled
Bindii, Clover, Jo-Jo, Catsear, Cudweed, Dandelion, Plantains (Lamb's Tongue), Thistles, Creeping Oxalis, Capeweed, Creeping Buttercup, and Fleabane.
Rate of Application
In a garden sprayer: 30 mL per 5-10 L of water per 50 m2. In a watering can + sprinkle bar: 30 mL per 10-20 L of water per 50 m2.
How to Apply
Measure lawn area before application. Apply evenly over the area to be treated while weeds are actively growing. Weeds will die slowly; effects may take up to 3 weeks to appear. Repeat applications after 3 to 4 weeks may be necessary to control advanced weeds or certain types of clover. Slight browning of grass may occur under hot conditions.
How to Prepare
Half fill sprayer or watering can with water, add the required amount of product, agitate thoroughly then add the remainder of the water. Do not mix more than is needed. Wash equipment thoroughly after use.
Precautions
CAUTION
DO NOT allow spray to contact or drift onto plants you do not want killed. DO NOT allow animals and children to enter treated areas until spray has dried. Dangerous to fish. DO NOT allow chemical containers or spray to get into drains, sewers, streams or ponds. DO NOT feed treated grass clippings to livestock or use as much.
Safety Directions
Product is poisonous if absorbed by skin contact, inhaled or swallowed. Will irritate the eyes and skin. Avoid contact with eyes and skin. Do not inhale vapour or spray mist. Repeated exposure may cause allergic disorders. When opening the container, preparing and using spray, wear cotton overalls buttoned to the neck and wrist, a washable hat, elbow length PVC gloves and face shield or goggles If product gets in eyes, wash it out immediately with water. After use and before eating, drinking or smoking, wash hands, arms and face thoroughly with soap and water. After each day's use wash gloves, face shield or goggles and contaminated clothing separately.
Storage & Disposal
Store in the close original container in a cool, dry place, out of reach of children and pets. Do not store in direct sunlight. Dispose of empty container by wrapping in paper, placing in a plastic bag and putting in garbage.