Free Shipping When You Spend $50 or More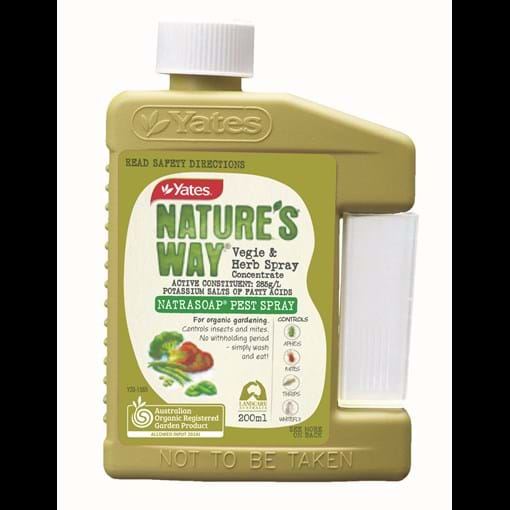 Zoom

Yates 200ml Nature's Way Vegie And Herb Concentrate
Free Shipping When You Spend $50 or More
Description
A natural soap made from vegetable oils, Yates Nature's Way Vegie & Herb Spray effectively controls insects and mites in the home garden. Suitable for use around the family garden, it's perfect to use on home grown vegetables, herbs, also fruit and ornamental plants. The benefit of no withholding period means you don't have to wait to eat vegetables and herbs, simply wash before eating.
Features
Low toxic soap based spray, suitable for organic gardeners
Soap coats the insect causing suffocation and desiccation
Easy-to-use measure bottle
Specifications
Size

200 mL

Ingredient

285 g / L Potassium salts of fatty acids
How to Use
Indoor and Outdoor Plants, Including Vegetables, Herbs, Fruit and Nut Trees, Pot Plants and Ornamentals
Pests Controlled - Aphids, thrips, mealybug, two-spotted mite, spider mite, whiteflyRate & How to Apply - Shake well, mix 15-30 ml with 1 litre of water and spray all surfaces of the plant thoroughly to the point of run-off. The best time to apply is in the cool of the early morning or late evening. Repeat 5-7 days later or as required.
Precautions
DO NOT spray if temperature is expected to exceed 30°C or when plants are suffering from moisture stress.
DO NOT spray if rain likely within 2 hours.
DO NOT mix with other insecticides or fungicides.
DO NOT use on delicate plants such as ferns, mosses, seedlings or on flowers and avoid over applying on soft foilage plants.
DO NOT allow chemical containers or spray to get into drains, sewers, streams or ponds.