Free Shipping When You Spend $50 or More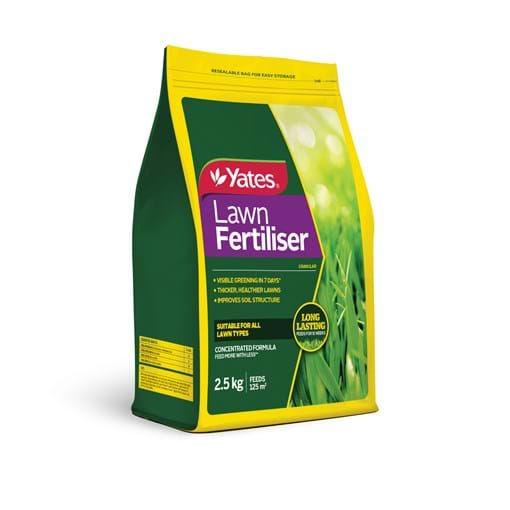 Zoom

Yates 2.5kg Lawn Fertiliser
Description
Premium formula contains fast and slow release nutrients to provide fast greening results that last longer.
Features
Slow release nitrogen technology – one application feeds for 12 weeks
Visible greening in 7 days
Suitable for ALL lawn types
Promotes a greener, thicker lawn and improves soil structure
Feed more for Less – concentrated formula – 2.5kg treats 125m²
Specifications
Size

2.5kg

Ingredient

NPK: 15: 0: 6 + Fe 2%
How to Use
When to Apply
Apply at any time of year, during periods of active growth. For best results we recommend application in early spring, early summer and early autumn (every 8-12 weeks). For sandy soils, apply at half rate and repeat every 6-8 weeks. Application Rate: Apply at a rate of 20 g/m². Note: one adult handful contains approximately 65 g. A 2.5 kg pack feeds up to 125 m².
How to Apply
Water the lawn well and allow to dry before application. Calculate lawn size and required amount of Yates® Lawn Fertiliser. For hand application, apply to lawn evenly at the recommended rate using a sweeping arc motion, spread half the amount required walking in a north-south direction, and the remainder in an east-west direction. To cover large areas use a lawn fertiliser spreader. Always water in well after application. Not recommended for new lawn or lawns less than 8 weeks old. Use a starter fertiliser such as Yates® Dynamic Lifter® Organic Lawn Food or Yates Dynamic Lifter Turf Starter. From 8 weeks apply Yates® Lawn Fertiliser at half rate (10 g/m2) and then at the full rate from 16 weeks onwards. During summer, if feeding a cool climate lawn such as bent or fescue, use half the recommended rate. For optimal greening results within 7 days, ensure application instructions above are followed as directed. Yates® Lawn Fertiliser is a high analysis, concentrated formula that covers more lawn area per kg when compared to traditional lawn fertilisers.
Precautions
Do not exceed rate of application.
Apply in still conditions.
Do not allow material to spill or blow onto hard or non-lawn surfaces as staining may occur.
Do not walk from treated area on to concrete or non-lawn surface as staining may occur.
Use gloves and avoid contact with clothing.