Free Shipping When You Spend $50 or More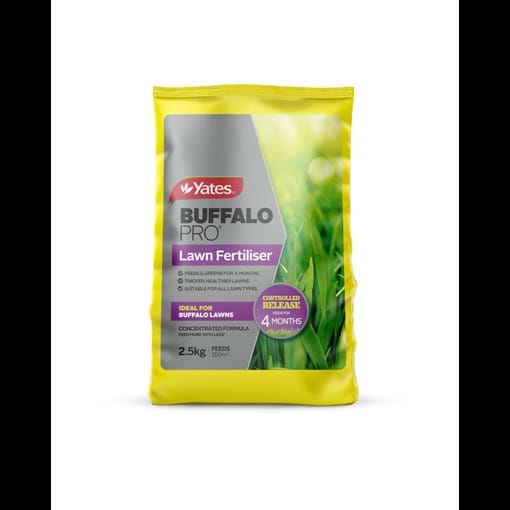 Zoom

Yates 2.5kg Buffalo PRO Controlled Release Fertiliser
Description
Yates® BUFFALOPRO® Lawn Fertiliser is a professional grade, controlled release granular fertiliser ideal for Buffalo lawns. Designed to give you a strong, green and healthy lawn, BUFFALOPRO® Lawn Fertiliser releases nitrogen and potassium over a 4 month period so you achieve a long lasting consistent result, without surge growth or burning, whilst also minimising nutrient runoff and leaching.
Features
A balanced blend of controlled and fast release essential nutrients
It promotes a consistently greener, thicker lawn that crowds out weeds and promotes a strong, deep root system
*Buffalo Pro® Lawn Fertiliser is a high analysis, concentrated formula that covers more lawn area per kg when compared to traditional lawn fertilisers
Specifications
Size

2.5 kg

Ingredient

NPK 30.3: .3: .10
How to Use
When to Apply
Apply any time of year, during periods of active growth. For best results we recommend application in early spring, early summer and early autumn.
Application Rate
This 2.5 kg pack covers 166 m2. Apply at a rate of 15 g / m2. Note: one adult handful contains approximately 30 g.
How to Apply
Calculate lawn size and required amount of BUFFALOPRO® Lawn Fertiliser. For hand application, apply to lawn evenly at the recommended rate. Using a sweeping arc motion, spread half the amount required walking in a north-south direction, and the remainder in an east-west direction. To cover large areas use a lawn fertiliser spreader. Ensure driveways and paths are dry to ensure accidental application does not stain. Sweep product off driveways and paths immediately after application as product will stain hard surfaces when wet. BUFFALOPRO® Lawn Fertiliser should be watered in well immediately after application. If hot conditions are expected following application, ensure you water very well. BUFFALOPRO® is ideal for Buffalo Lawns, however it can be used on all common lawn types including Kikuyu and Couch.
Precautions
Product can stain hard surfaces when wet.
Ensure hard surfaces are dry before application.
Sweep product off driveways and paths immediately after application and before watering.
DO NOT APPLY when temperatures are expected to exceed 30ºC or when soil is dry and lawn is suffering from moisture stress. Not recommended for new lawns or lawns less than 6 weeks old. Use a starter fertiliser such as Yates® Dynamic Lifter® Organic Lawn Food.
Not to be used for garden beds or potted plants.