Free Shipping When You Spend $50 or More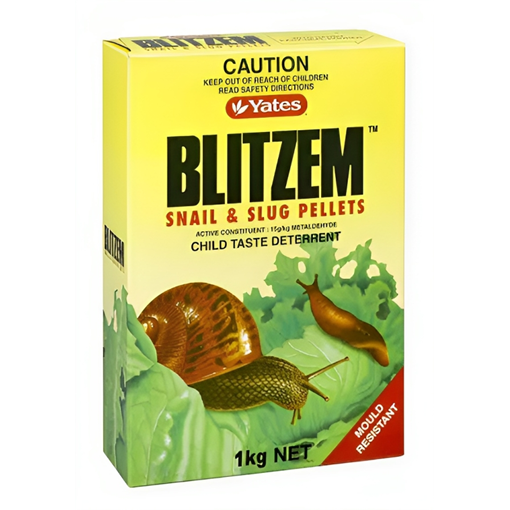 Zoom

Yates 1kg Blitzem Snail & Slug Pellets
Description
Kills snails and slugs by dehydration.
Features
Economical control of snails and slugs
Contains a bittering agent to help prevent accidental consumption by children and pets
Pellets are mould resistant
Eventually biodegrades into carbon dioxide and water
Easy to apply straight from the pack
Specifications
Size

1 kg

Ingredient

15 g / Kg Metaldehyde Plus child taste deterrent
How to Use
Scatter pellets around seedlings and plants wherever snails and slugs are active. Spread evenly at a rate of 5 grams per square metre. Do not leave in piles. The best time to apply is immediately after rain.
Precautions
Store away from children and pets
DO NOT heap – it is wasteful and easy for domestic pets to collect
Dogs may find pellets attractive. If eaten, take to vet immediately
Read all safety directions including rear of pack
Dispose of empty container safely
Do not apply Blitzem Pellets to edible plant parts