Free Shipping When You Spend $50 or More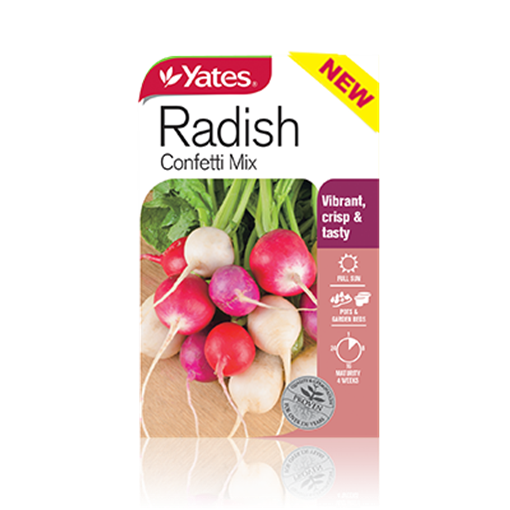 Zoom

Radish Confetti Mix
Plump globes of purple, white and red radishes with crisp white flesh.
Description
Features
Quick to grow
Vibrant colour
Crisp & tasty
Climate Guide
Tropical & Sub-Tropical

All year round

Temperate

All year round

Cool

All year round
How to Grow
How
Sow direct where they are to grow. Cover, firm down and keep moist. Thin to 3-5cm spacing after 2 weeks. For a continuous supply of radishes make successive sowings every few weeks
Care
Select a sunny, well drained position. Enrich soil before sowing with Yates Dynamic Lifter. Keep soil moist and feed plants regularly with Yates Thrive Vegie & Herb Liquid Plant Food. Protect from snails and slugs.
Hint
Harvest while roots are young and tender. Mulch around plants to help keep soil moist.