Free Shipping When You Spend $50 or More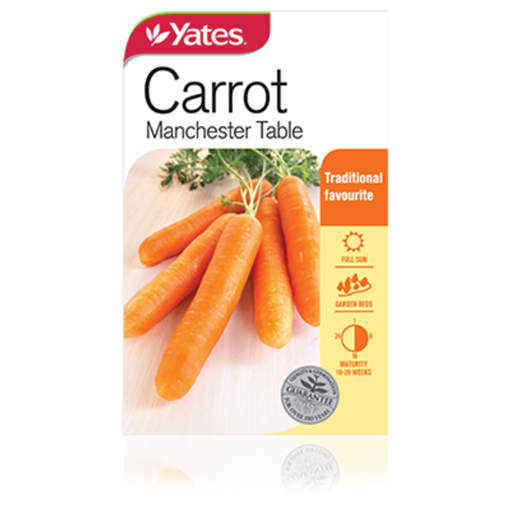 Zoom


Carrot Manchester Table
Easily grown to 20cm in length, these cylindrical carrots are popular for their crisp, sweet, deep orange flesh.
Description
Features
Very sweet
Medium sized
Cylindrical shape
Climate Guide
Tropical & Sub-Tropical

All Year Around

Temperate

Late Winter to Autumn

Cool

Spring to Late Summer
How to Grow
How
Direct in a sunny, well drained position. Cover, firm down and moisten. Thin after 4 weeks. Sow successive crops at 4-5 weekly intervals.
Care
Cultivate soil well before sowing as deep, well-drained soils give best results. Add Yates Blood & Bone to soil before sowing to help ensure a good crop. Protect from snails and slugs with Yates Blitzem.
Hint
Great companion plant for beans, coriander, cucumber, marigold, lettuce, peas, radish, rosemary, sage & tomato. To aid germination, maintain even moisture by laying a plank of wood over row. Remove after germination.