Free Shipping When You Spend $50 or More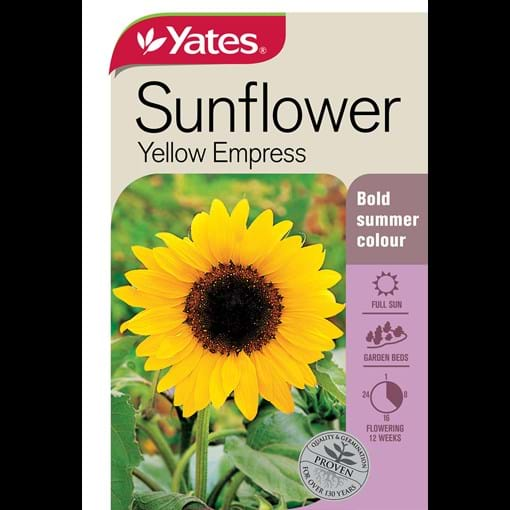 Zoom



Sunflower Yellow Empress
A very large, bright yellow flower up to 35cm across on a tall branching plant.
Description
Features
Hardy annual
Impressive backdrop
Easy to grow
Climate Guide
Tropical & Sub-Tropical

Spring, Summer & Autumn

Temperate

Late Winter to Early Summer

Cool

Spring to Early Summer
How to Grow
How
Sow direct where they are to grow. Firm down, water gently and keep moist through germination period.
Care
Choose a warm, sunny, well-drained position sheltered from wind. Add Yates Blood & Bone before planting. Keep free from weeds and keep well watered. Apply Yates Thrive Soluble Flower & Fruit regularly. Plants may require staking. Protect from snails and slugs with Yates Blitzem.
Hint
Remove spent blooms to prolong flowering. Cut flowers are best picked before they are too old.