Free Shipping When You Spend $50 or More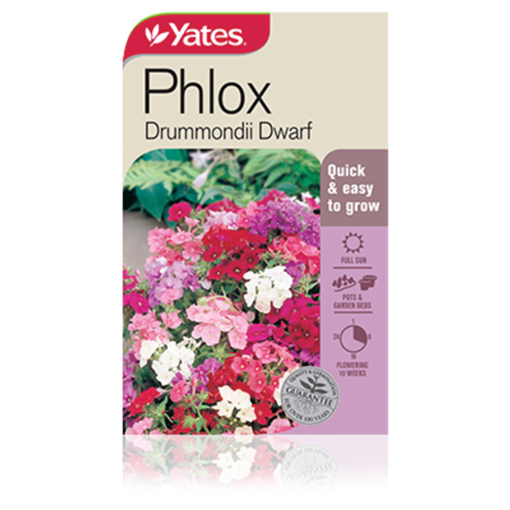 Zoom


Phlox Drummondii Dwarf
Create a carpet of richly coloured blooms throughout the warmer months.
Description
Features
Annual
Masses of colour
Pots and garden beds
Climate Guide
Tropical & Sub-Tropical

Late Autumn, Winter & Spring

Temperate

Spring to Early Summer

Cool

Spring to Early Summer
How to Grow
How
Sow direct where they are to grow as phlox do not transplant well. Completely cover seeds with Yates Seed Raising Mix as they require darkness for germination. Firm down, water gently and keep moist through germination period.
Care
Choose a sunny, well-drained position. Add Yates Blood & Bone before planting, and fertilise regularly with Yates Thrive Soluble Plant Food. Protect from snails and slugs with Yates Blitzem.
Hint
Water at base of plant to avoid disease. Mulch around plant to retain moisture and protect shallow roots. Remove spent flower clusters regularly to promote new blooms.