Free Shipping When You Spend $50 or More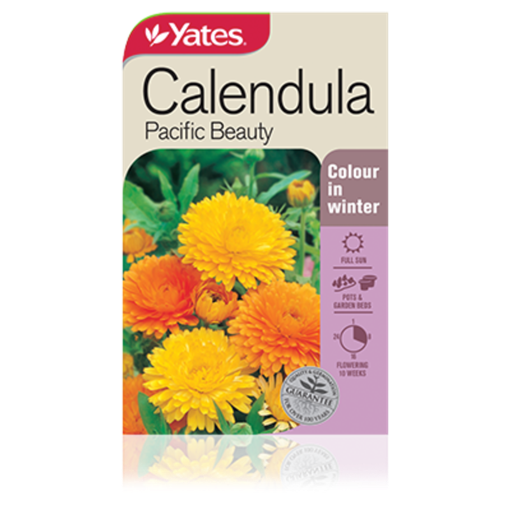 Zoom


Calendula Pacific Beauty
A beautiful winter display of warm colours in apricot, yellow, and orange.
Description
Features
Hardy annual
Masses of colour
Pots and garden beds
Climate Guide
Tropical & Sub-Tropical

Late Summer to Autumn or Spring

Temperate

Mid Summer to Late Autumn

Cool

Autumn or Spring
How to Grow
How
Sow direct where they are to grow or into trays of Yates Seed Raising Mix. Firm down, water gently and keep moist through germination period. Transplant or thin out when 5-7cm high.
Care
Choose a open, sunny position that is well drained. Add Yates Blood & Bone before planting. Water regularly and apply Yates Thrive Soluble Plant Food for stronger plants. Protect from snails and slugs with Yates Blitzem.
Hint
Remove spent blooms to prolong flowering. Flowers are ideal as an edible garnish, and for adding colour to salads.