Free shipping when you spend $25 or more on seeds
Free shipping when you spend $50 or more on other products
Description
Features
Live catch & release trap - catches up to 4 mice at a time
Door hatch will close to ensure when one mouse enters, other mice cannot escape
Reusable, sturdy, lightweight design – can be used indoors & outdoors
Removable & translucent lid for easy monitoring, cleaning & baiting
Ideal for use around pets & children
RATSAK Catch and Hold Mouse Trap is a poison free alternative to control mice.
It offers a humane solution for mouse control and provides peace of mind when using around pets and children. The traps sturdy design is ideal for both indoor and outdoor use and catch and holds up to 4 mice at anyone time.
Specification
For

Mice

Recommended bait placement areas

Laundry
Inside roof
Shed
Kitchen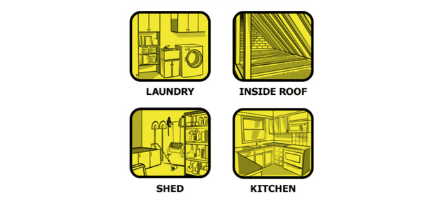 How to Use
Directions for use
Slide the top of the trap open. Apply bait in the trough provided on the inside of the trap with a cotton bud, toothpick or other tool to mask your scent. Use hazelnut spread or peanut butter. Slide the top back onto the trap to close.    
Place trap where signs of rodent activity are visible or along the wall where mice primarily travel.  The end of the trap with the entrance holes should be placed nearest the wall.  
Release mice after capture by sliding the top of the trap open. Release mice in desired location. Slide the top back onto the trap to close. Rebait and reuse as required.
Handy rodent control tips
Eliminate as far as practical all alternative food sources.  
Keep food stored in sealed containers.  
Repair holes, cracks and crevices that may encourage mice to enter the building.
NOT TO BE USED FOR ANY PURPOSE OR IN ANY MANNER CONTRARY TO THIS LABEL UNLESS AUTHORISED
Precautions
CAUTION & SAFETY DIRECTIONS
Ideally place traps in locations which are inaccessible to children, pets, other animals and birds.
FOR EMERGENCIES ONLY, CALL 1800 220 770 (ALL HOURS)
FOR GENERAL ENQUIRIES SPEAK TO US ON RATCHAT™ VIA the POP UP WINDOW AT THE BOTTOM OF YOUR SCREEN.
STORAGE & DISPOSAL
Store in the closed, original container in a cool, dry place out of reach of children and pets. 
Do not store in direct sunlight.