Free Shipping When You Spend $50 or More
Description
Features
No-see, no-touch hidden kill solution – mouse is covered when caught. Simply lift tab to release caught mouse
Precision Impact Technology™ - the mouse is placed in the perfect position when the trap is activated, resulting in a quick and humane kill. Added ridge on base of trap to increase speed of kill
Safer for kids and pets* - tunnel design helps keep pets and children away from trap mechanism
Ideal for narrow areas - mice can access small, inaccessible areas. The narrow tunnel design enables ideal placement in smaller & narrower places such as next to the fridge, or behind cupboards
Bait door - allows for simple and safe baiting, and can even be baited when the trap has already been set. The bait door also eliminates the chance of mice stealing the bait
*safer than traditional snap mouse traps when used as directed
RATSAK Clean Kill™ Mouse Trap offers a no-see, no-touch mice control solution, which is easy to bait and set using the uniquely designed bait door. The mice enters the tunnel to access the bait at the end of the trap. The trap uses Precision Impact Technology™, which places the mouse in a perfect position when the trap is activated, resulting in a quick and humane kill. The narrow tunnel design enables ideal placement in smaller and narrower areas such as next to the fridge, or behind cupboards, and also covers the caught mouse when activated.
How to Use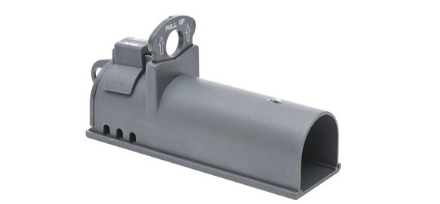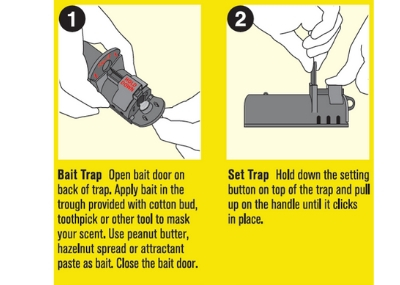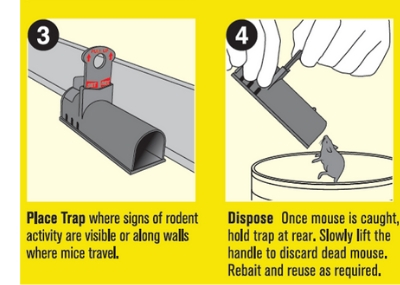 For Mice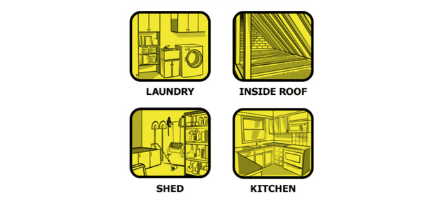 Directions for use
Handy rodent control tips
Eliminate as far as practical all alternative food sources.
Keep food stored in sealed containers. 
Place 2 traps back to back along walls where mice travel.
Consider using gloves when setting the trap to avoid the rodent detecting human scent.
Move the traps to a new location after 48 hours if rats are still present.
Bait with Peanut Butter or Hazelnut Spread to attract the rodent, or use cheese if no peanut butter is available.
Repair holes, cracks and cervices that may encourage rats to enter the building. Or use Ratsak Repel solutions to prevent new rodents.
NOT TO BE USED FOR ANY PURPOSE OR IN ANY MANNER CONTRARY TO THIS LABEL UNLESS AUTHORISED
Precautions
CAUTION & SAFETY DIRECTIONS
Use caution when setting and consider placement to avoid children and pets playing with the trap.
Keep children and pets clear when setting the trap.
Place trap in an area where children or pets cannot access.
FOR EMERGENCIES ONLY, CALL 1800 220 770 (ALL HOURS).
FOR GENERAL ENQUIRIES SPEAK TO US ON RATCHAT™ VIA the POP UP WINDOW AT THE BOTTOM OF YOUR SCREEN.
STORAGE & DISPOSAL
Take care when disposing of mouse.