Free Shipping When You Spend $50 or More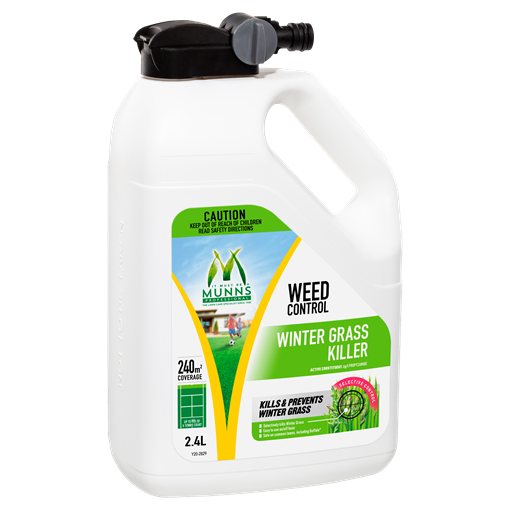 Zoom




Munns Professional 2.4L Winter Grass Killer Hose-On
Description
Munns Professional Winter Grass Killer provides effective control and prevention of winter grass in home lawns. It is specially formulated to be safe on common lawn types, including buffalo, kikuyu and couch.
Features
Kills & Prevents Winter Grass
Safe on common lawn types, including Buffalo
Easy to use hose on with on/off
Covers 240m2
Specifications
Size

2.4 L

Ingredient

6 g / L Propyzamide
How to Use
Munns Professional Winter Grass Killer for control of Winter Grass seedlings in established lawn apply in autumn and winter. Apply in early spring for knockdown of residual Winter Grass to reduce seed set. For lawns with annually reoccurring Winter Grass, apply as a pre-emergent spray in autumn to prevent Winter Grass from germinating. Ensure a uniform coverage. Water from above immediately after application with 12-25 mm of water or rain and again 24 hours later. Repeat if necessary on Qld. Blue Couch after 4 weeks. Lawn type (do not use on Bluegrass, fescue, rye or Bentgrass lawns) - Buffalo, Kikuyu, common Couch Rate - 1L/100 sqm Lawn type (do not use on Bluegrass, fescue, rye or Bentgrass lawns) - Queensland Blue Couch Rate - 0.5L/100 sqm
How to Prepare
Best results are obtained by applying the product to cool, well-watered lawns. Measure lawn area before application. Apply at first sight of weeds or as a preemergent (preventative) treatment. Weeds will die slowly; effects may take up to 3 weeks to appear. Water in with 12mm irrigation (approx. 30 minutes) immediately following application.
Follow these easy steps to use your Munns® Professional Winter Grass Killer
1. Shake the pack well before applying. 2. Connect hose to hose-on applicator. You will need to have click-on connector. 3. Ensure the on/off valve is in the vertical OFF position then lift plastic flap at front of applicator. 4. Turn on the garden tap using moderate to high water pressure. 5. Turn applicator on/off valve to horizontal ON position to commence spraying. Water mixes automatically with concentrate in the proper ratio. 6. Walk and spray at a steady pace whilst sweeping the spray in a back and forth arc. Overlap treated areas slightly. Keep bottle upright; do not point at the ground. 7. Use caution when applying near garden beds and shrubs. 8. When finished, return on/off valve to the OFF position and turn off garden tap. Close plastic flap to prevent spillage of any unused product before storing. Always store product upright.
Precautions
DO NOT use on Bluegrass, fescue, rye or Bentgrass lawns.
DO NOT re-seed for 60 days after treatment. Use only on established turf.
DO NOT graze treated turf or lawn; or feed turf or lawn clippings from any treated area to poultry or livestock.
DO NOT use clippings from treated areas for mulch around vegetables or fruit trees.
Keep children off treated lawn until spray has dried.
Wash hands after use.
Always store product upright to prevent spillage of any unused product.
Store in the closed, original container in a cool, dry place out of the reach of children & pets. Do not store in direct sunlight.
Dispose of empty container by wrapping in paper, in plastic bag & putting in garbage.
If poisoning occurs, contact a doctor or Poisons Information Centre. Phone Australia 131 126; New Zealand 0800 764 766