Free Shipping When You Spend $50 or More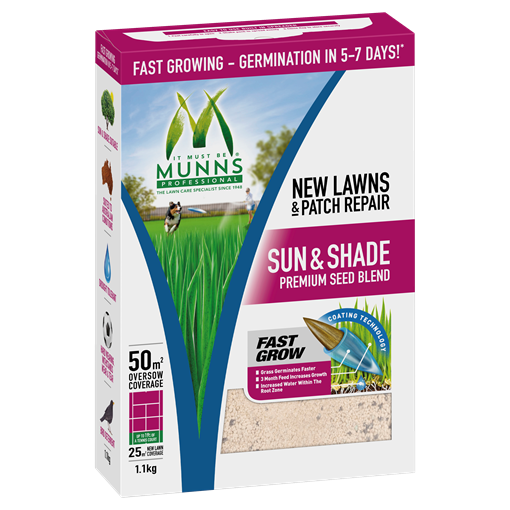 Zoom




Munns Professional 1.1kg Sun & Shade Lawn Seed
Description
Munns Professional Sun & Shade Lawn Seed blend is a premium turf grade seed blend, coated in an advanced germination booster coating, to provide germination within 5-7 days*.

This blend is a beautiful fine textured grass blend, that won't intrude into unwanted areas such as garden beds, and will stay a rich green colour. It is suited to grow in all soil types, and will take up across most parts of Australia.

*Germination times are dependent upon temperature and soil moisture levels. Germination may take longer than specified during cold periods and when soil is not kept sufficiently moist.

The blend has been developed to handle heavily shaded to full sun areas or lawns that have both conditions, providing a beautiful looking lawn or repair area that is rich green in colour. The root systems in the blend run really deep, which is what makes the blend tolerant to full sun or shade areas. The blend contains the seeds used in sport stadiums and golf courses around the world.
Features
Premium slow release 3 months fertiliser to help establish the grass long term.
Improved germination and root development through the inclusion of a professional grade wetting agent.
Multi-purpose coating, to boost germination and deter birds, while also allowing you to see where you've sown seeds.
1.1kg = 25m2 new lawn coverage or 50m2 oversow coverage
Specifications
Size

1.1 kg

Ingredient

Lawn Seed Type: Improved Turf Type Tall Fescue, Improved Turf Type Perennial Ryegrass, Kentucky Bluegrass and Creeping Red Fescue % by weight of Seed: 60%, 20%, 10%, 10% Minimum Germination: Above 85% Blend also contains: 20% (by weight) slow release lawn food (22% Nitrogen, 5% Potassium, 2% Iron), Zeolite (granular soil improver), and a soil wetting agent.
How to Use
Where & When to Sow?
Sow in early autumn to allow development of a deep root system prior to first summer. Sowing in spring is also a suitable time, through more watering may be required throughout the first summer.
6 Easy Steps to Sow your Munns Lawn
1. Soil is to be evenly graded, well drained and level.2. Lightly rake area one way to create furrows.3. Shake pack thoroughly before seeding to overcome any setting. Broadcast the contexts of this pack evenly using the built-in spreader on top of pack.4. Rake again lightly at angles (90 degrees) to the original furrows.5. Keep the top 1cm of soil moist at times during germination using a fine mist spray. This may require watering several times a day especially in hot and windy conditions.6. Mow the lawn when the grass is 5-6cm high and just cut the top 2cm off this encourages root growth. As the lawn matures lower the blades gradually.After 12 weeks fertilise your new lawn with a high quality Munns Professional Lawn Fertiliser that suits your lawn type for a healthy, lush green lawn.