Free Shipping When You Spend $50 or More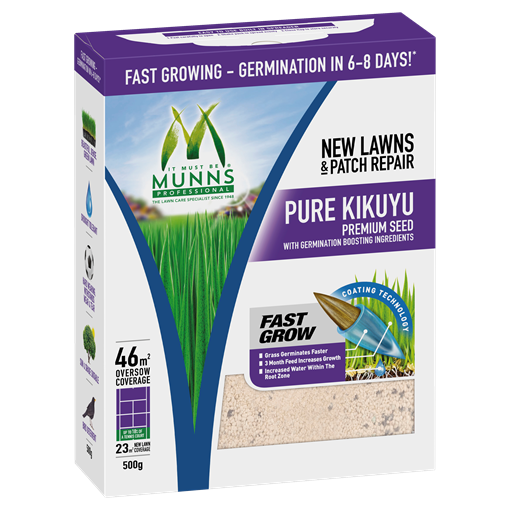 Zoom




Munns Professional 500g Pure Kikuyu Lawn Seed + Fertiliser & Soil Improvers
Description
Munns Professional Pure Kikuyu Lawn Seed Blend is a premium turf grade seed blend coated with an advanced germination booster coating, to provide germination within 5-7 days*.

Kikuyu can handle wear and tear, drought and a wide range of temperature. This turf type Emerald Kikuyu has a richer green colour and finer leaf texture than regular Kikuyu, growing into a beautiful, dense green lawn.

*Germination times are dependent upon temperature and soil moisture levels. Germination may take longer than specified during cold periods and when soil is not kept sufficiently moist.

This blend only contains high quality, less invasive Kikuyu lawn seed, which will grow to be a lush, rich green lawn. Kikuyu seed generally takes 7-10 days to germinate, and you won't start to see full coverage for until around the 6 week mark.

Please note: It is important to maintain the moisture around the seed to ensure quicker establishment.
Features
Premium slow release 3 months fertiliser to help establish the grass long term.
Improved germination and root development through the inclusion of a professional grade wetting agent.
Multi-purpose coating, to boost germination and deter birds, while also allowing you to see where you've sown seeds.
500g = 23m2 new lawn coverage or 46m2 oversow coverage
Specifications
Size

500 g

Ingredient

Lawn Seed Type: Emerald Kikuyu % by weight of Seed: 100% Minimum Germination: Above 85% Blend also contains: 20% (by weight) slow release lawn food (22% Nitrogen, 5% Potassium, 2% Iron), 30% Zeolite (granular soil improver), and a wetting agent.
How to Use
Where & When to Sow?
Sow in early autumn to allow development of a deep root system prior to first summer. Sowing in spring is also a suitable time, through more watering may be required throughout the first summer.
6 Easy Steps to Sow our Munns Kikuyu
1. Soil is to be evenly graded, well drained and level.2. Lightly rake area one way to create furrows.3. Shake pack thoroughly before seeding to overcome any setting. Broadcast the contexts of this pack evenly using the built-in spreader on top of pack.4. Rake again lightly at angles (90 degrees) to the original furrows.5. Keep the top 1cm of soil moist at times during germination using a fine mist spray. This may require watering several times a day especially in hot and windy conditions.6. Mow the lawn when the grass is 5-6cm high and just cut the top 2cm off this encourages root growth. As the lawn matures lower the blades gradually.After 12 weeks fertilise your new lawn with a high quality Munns® Professional Lawn Fertiliser that suits your lawn type for a healthy, lush green lawn.