Free Shipping When You Spend $50 or More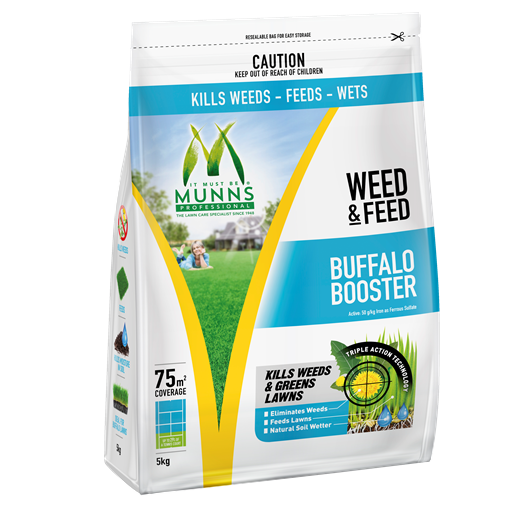 Zoom




Munns Professional 5kg Buffalo Booster Weed & Feed
Description
Munns Professional Buffalo Booster Weed & Feed will control most common lawn weeds, while feeding your Buffalo lawn. It controls flatweeds, thistles, dandelions and other broadleaf weeds. The formulation also contains a natural wetting agent, that aids in the soil's ability to hold water.
Features
Controls weeds, due to the inclusion of an active that will kill weeds and NOT lawns.
Feeds lawns, with essential nutrients to provide a healthy, green Buffalo Lawn.
Wets, thanks to a unique natural wetting agent which improves the moisture retention in your Buffalo Lawn.
Specifications
Size

5 kg

Ingredient

Total Nitrogen (N) as ammonium 5.0 Total Iron (Fe) as sulfate 5.0 Total Sulfur (S) as sulfate 8.5
How to Use
Munns Professional Buffalo Booster Weed & Feed can be used at any time of year. Ensure you use this product at first sign of weeds.
Application Restraints
DO NOT exceed the rate of application. DO NOT apply to lawns such as lippia, clover or dichondra (Tom Thumb). DO NOT apply to lawns under 6 months old. AVOID application in acid soil areas. DO NOT apply during hot or windy weather. DO NOT apply if rain is expected within 48 hours. DO NOT apply to moisture stressed lawns.
Usage Guide
Situation - Grass lawns including Bent, Couch, Ryegrass, Kikuyu and Buffalo Weeds Controlled - Thistles, Dandelions, Flatweed and other Broadleaf weeds Rates - Apply 1 kg over 15m²
5 Easy Steps to use your Munns® Buffalo Booster Weed & Feed
1. Measure your area and calculate how much product is required. You will need 67g per square metre (m²), which is roughly 1 ? of an adult handful (one handful = approximately 50g). 2. Moisten the lawn. Apply Triple Action Buffalo Booster Weed & Feed during fine weather. Avoid windy conditions. 3. Spread as evenly as possible. 4. Water thoroughly after 48 hours. Your lawn may turn black after a few days but will regreen quickly. 5. Repeat the application about every six to eight weeks to maintain a weed free lawn.
Precautions
To prevent staining avoid contact with clothes and wear gloves.
DO no spread or spill material onto hard or non-lawn services. Avoid walking from the treated areas onto concrete or any non-lawn surface area as heavy staining may occur.
Dispose of packaging appropriately.
DO NOT allow chemical or containers to get into drains, sewers, streams or ponds.
Make sure product is watered in thoroughly after 48 hours of treatment before allowing pets or children on the area.
If poisoning occurs, contact a doctor or Poisons Information Centre. Phone 131 126