Free Shipping When You Spend $50 or More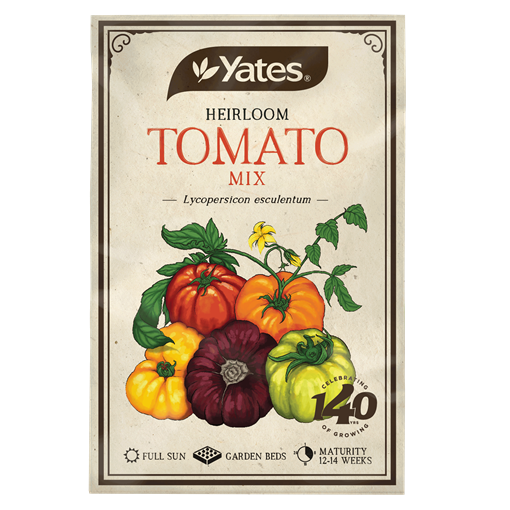 Zoom




Heirloom Tomato Mix
A lucky dip selection of heritage tomatoes in a variety of colours and flavours.
Description
Features
Heritage favourites
Vibrant colours
Traditional taste
Climate Guide
Tropical & Sub-Tropical

All Year Round

Temperate

Late Winter to Early Summer

Cool

Spring
How to Grow
How
Choose a sunny, well-drained position and mix Yates Dynamic Lifter into the soil. Sow seed direct where the plants are to grow or raise seedlings in small pots of Yates Seed Raising Mix. Transplant seedlings to their final position when 5 cm tall. Support plants with stakes and soft ties. Keep the soil moist.
Care
Feed plants every fortnight with Yates Thrive Flower & Fruit Soluble Fertiliser. Protect from pests and diseases with Yates Tomato & Vegetable Dust.
Hint
Help prevent blossom end rot by keeping the soil consistently moist. Pick fruit regularly to promote a longer harvest.Yates seed is tested and proven. We will gladly replace any packet that does not perform to your satisfaction.